HRBlock.com/class – Are you trying to learn how to do your own taxes? Perhaps you have helped your friends and family with their taxes  in the past and you want to get paid for your hard work by becoming a tax preparer. One quick way to do this is by completing the official H&R Block tax courses at HRBlock.com/class. After finishing the H&R Block classes, you can even work for the company during tax season. 
Below we cover how to signup for a tax course, how to login to the Block Academy at hrblock.csod.com after you have already signed up and we also cover a bunch of other information about the HR Block income tax class costs, what the courses cover, benefits of the H and R Block tax courses and other FAQs you might have.
So read on below for our full review of HR Block academy and their amazing income tax preparer courses!
Take an H&R Block Academy Tax Course at HRBlock.com/class
To access the h&r block tax preparer course, you can go to www.hrblock.com/class or www.hrblock.com/itc.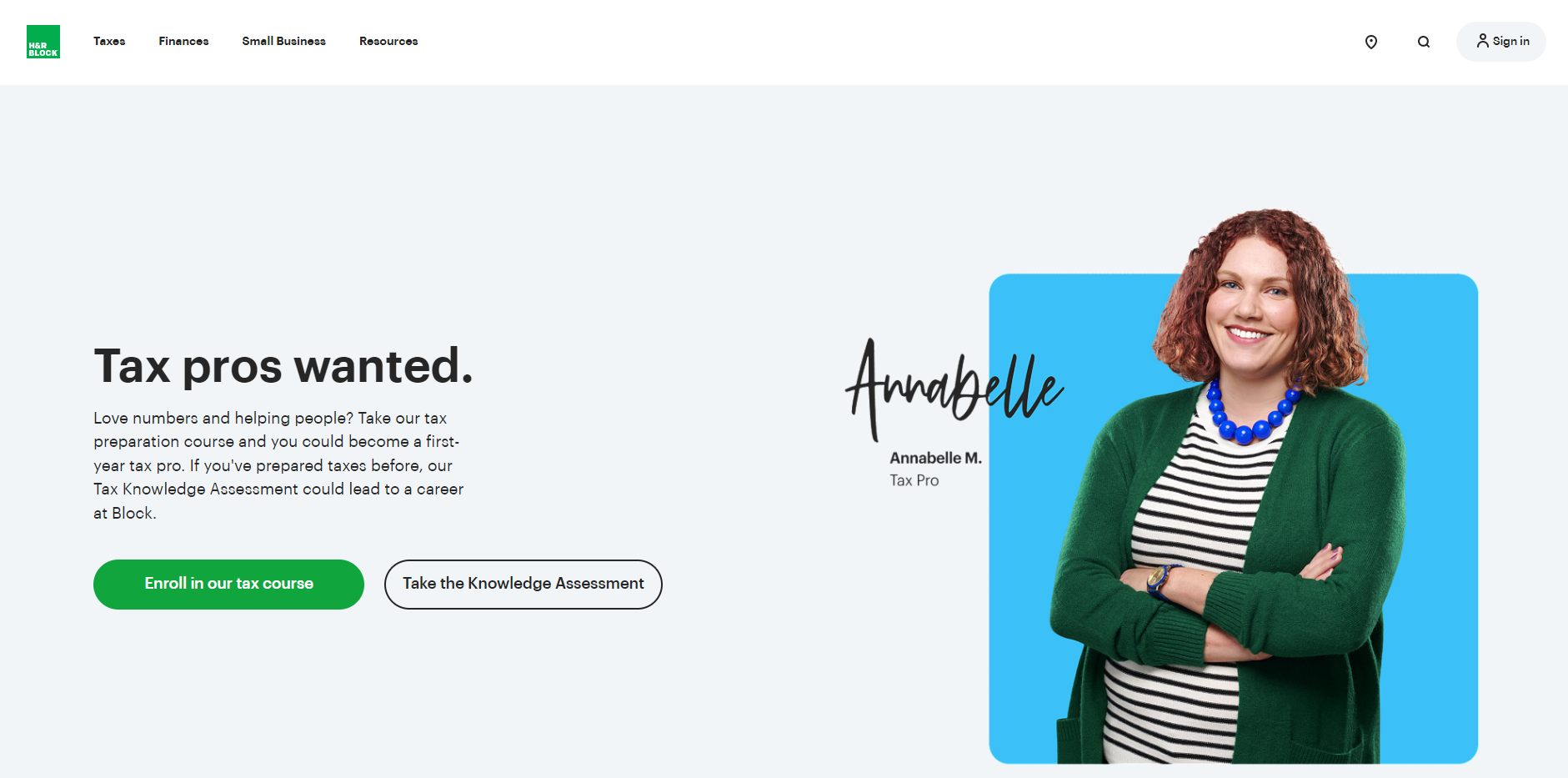 You have two options. The first is to enroll in the h&r block tax course. Click on that link to continue.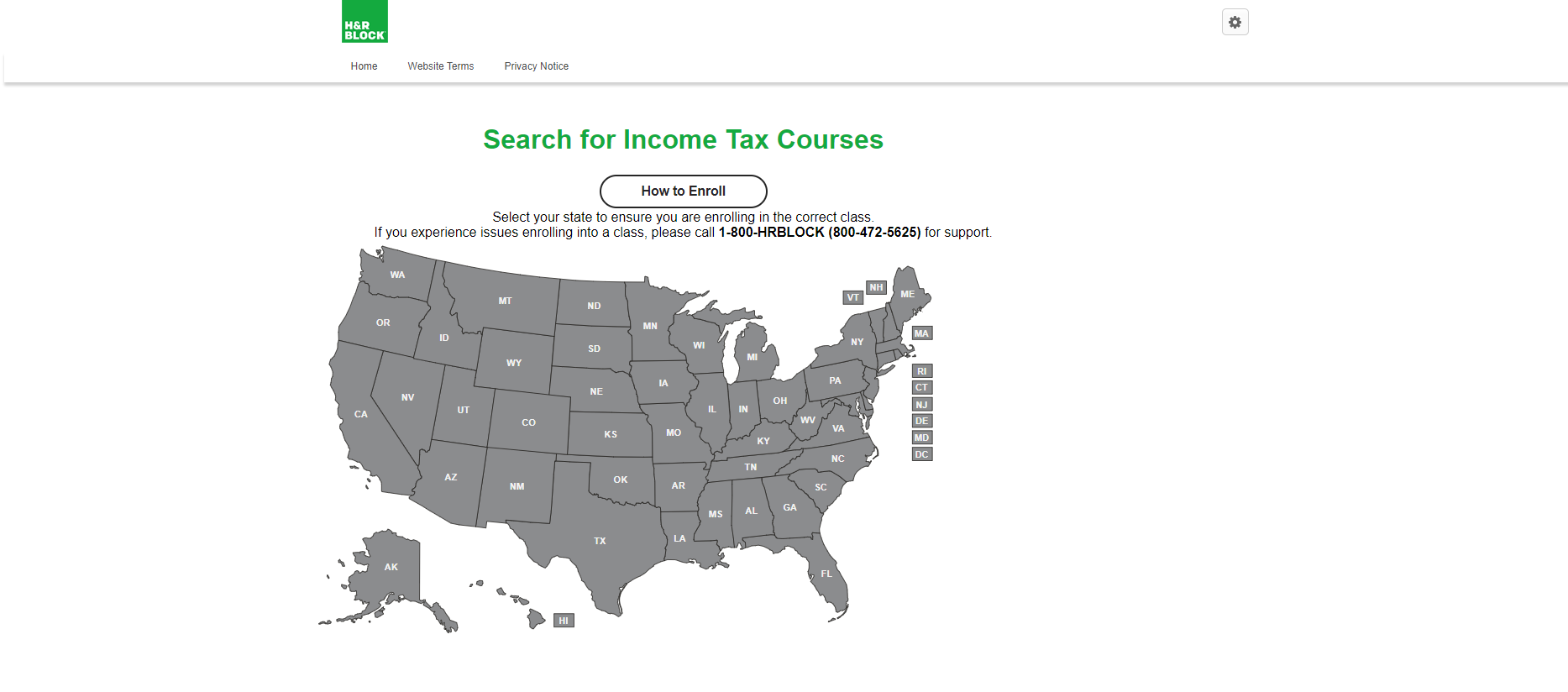 Start by selecting your state. *Note: You can select the How to Enroll link and a PDF will open giving you more details about the program.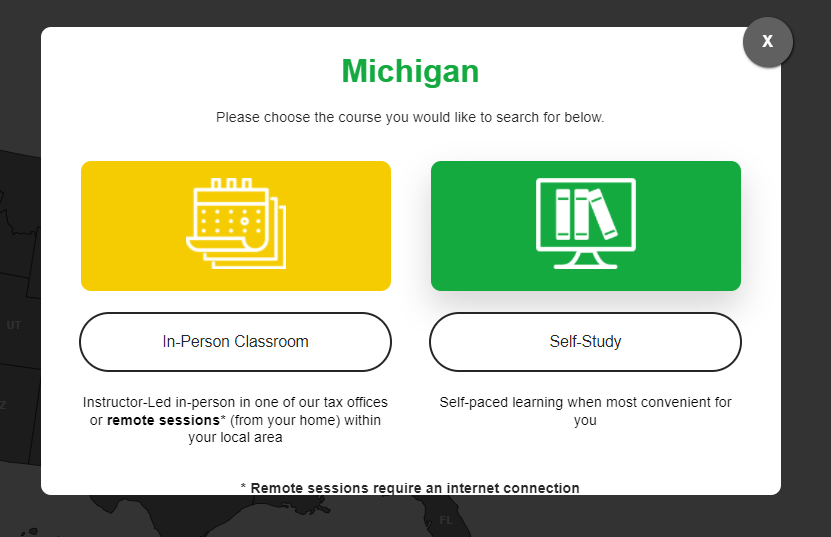 Then select if you want to complete in-person learning or self-study courses. *Note: You need a reliable internet source to complete self-study courses.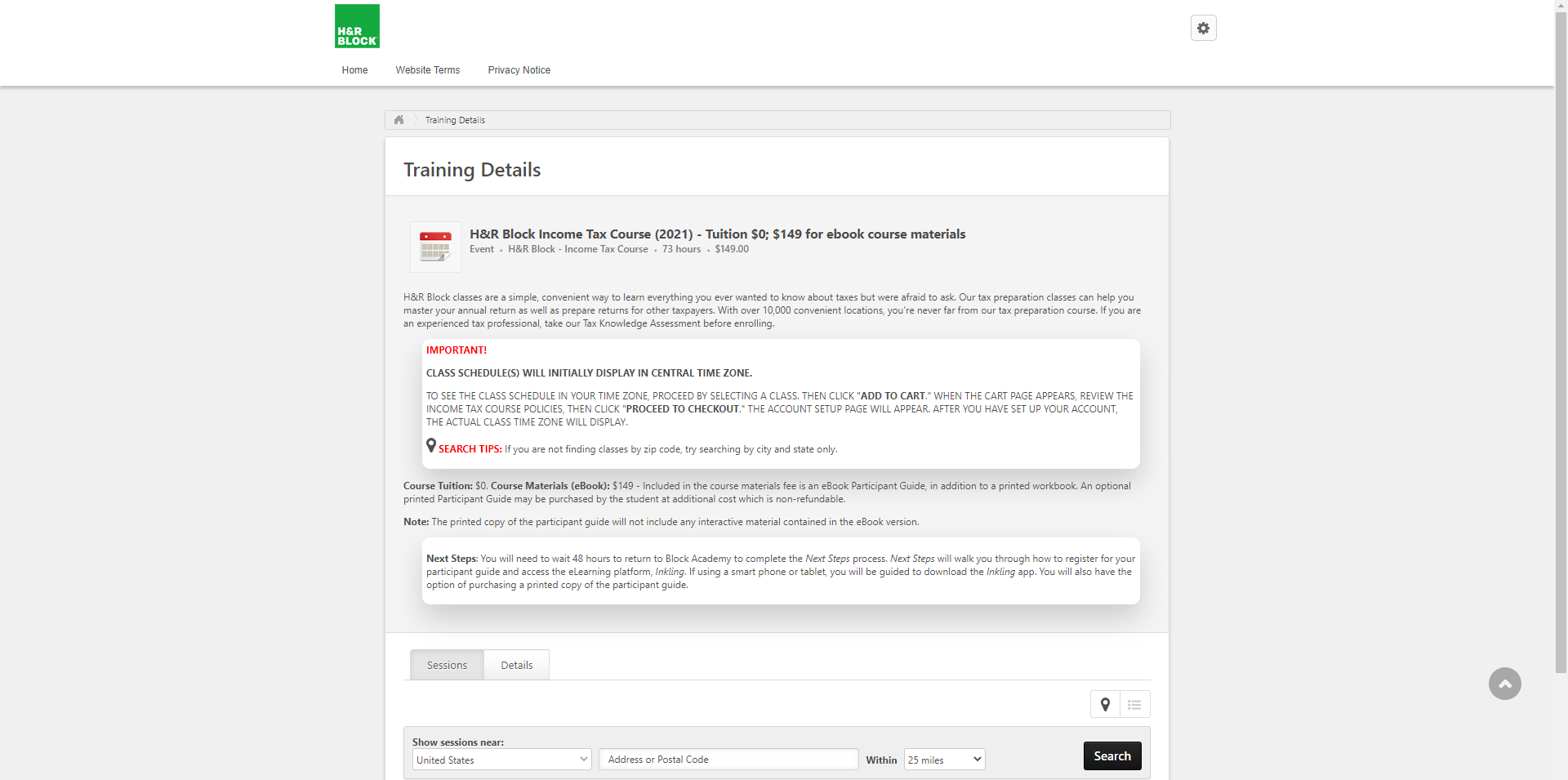 If you pick the in-person option, you will then be prompted to purchase the training materials for $149 in order to complete the course. This price may vary depending on the state you selected. There will also be details about upcoming class schedules. 
Likewise, choosing the self-study course will redirect you to a page that requires you to purchase training materials.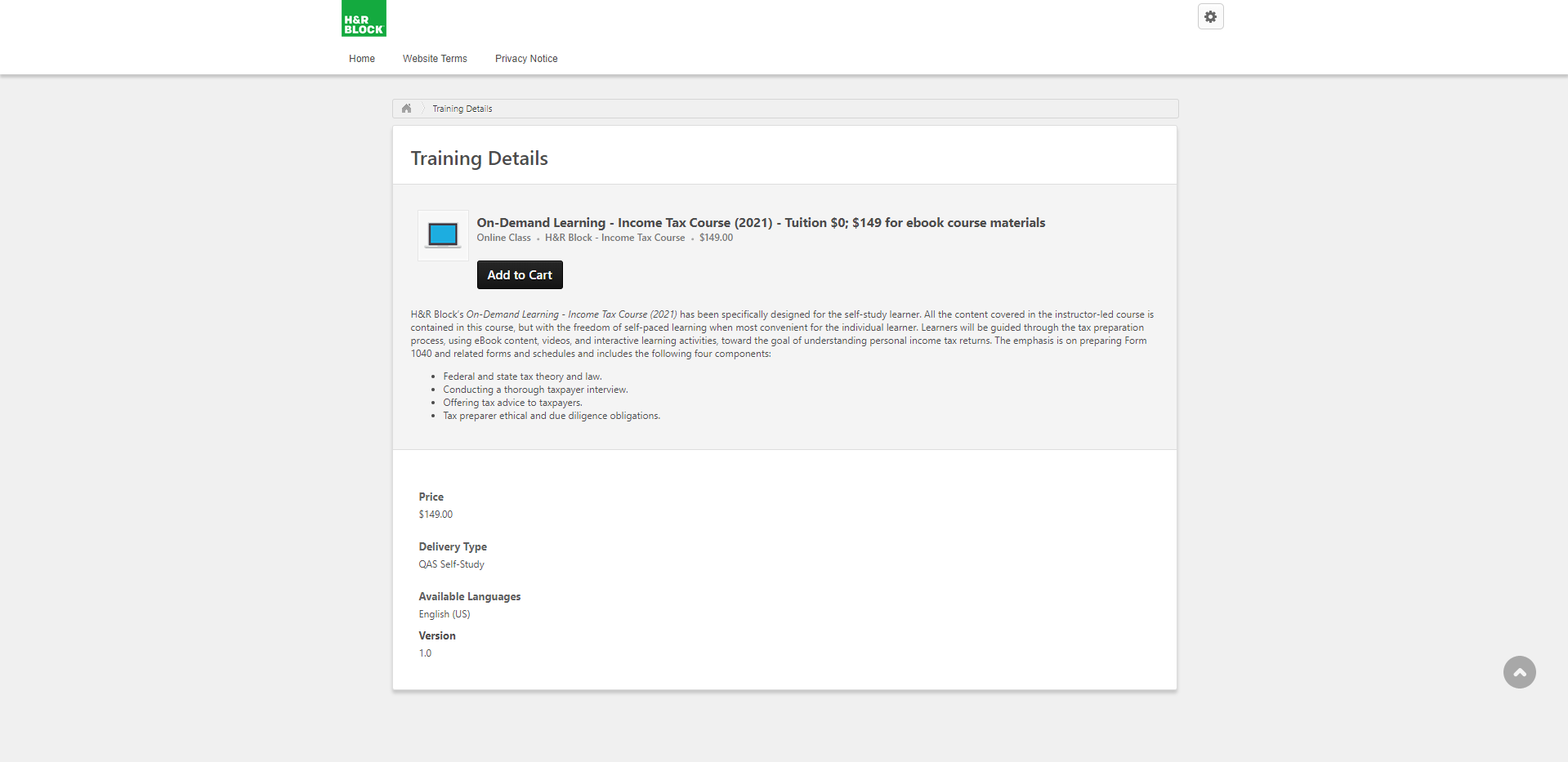 The second option after arriving at hrblock.com/class is to take the knowledge assessment. That is for those who have already prepared taxes.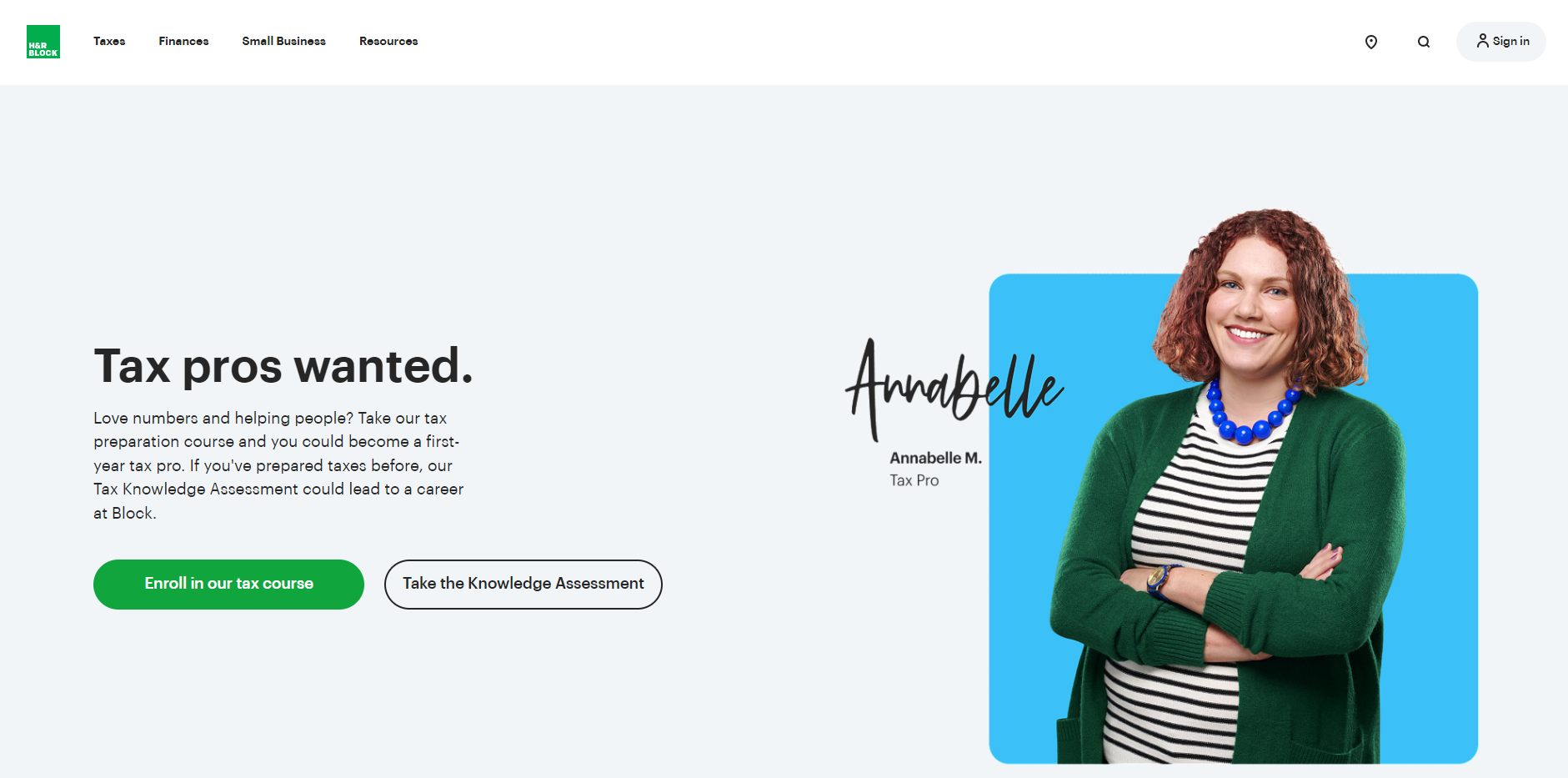 You can test out the income tax classes and start your professional tax career with H&R Block right away. Click on Take the Knowledge Assessment if you want to give it a try.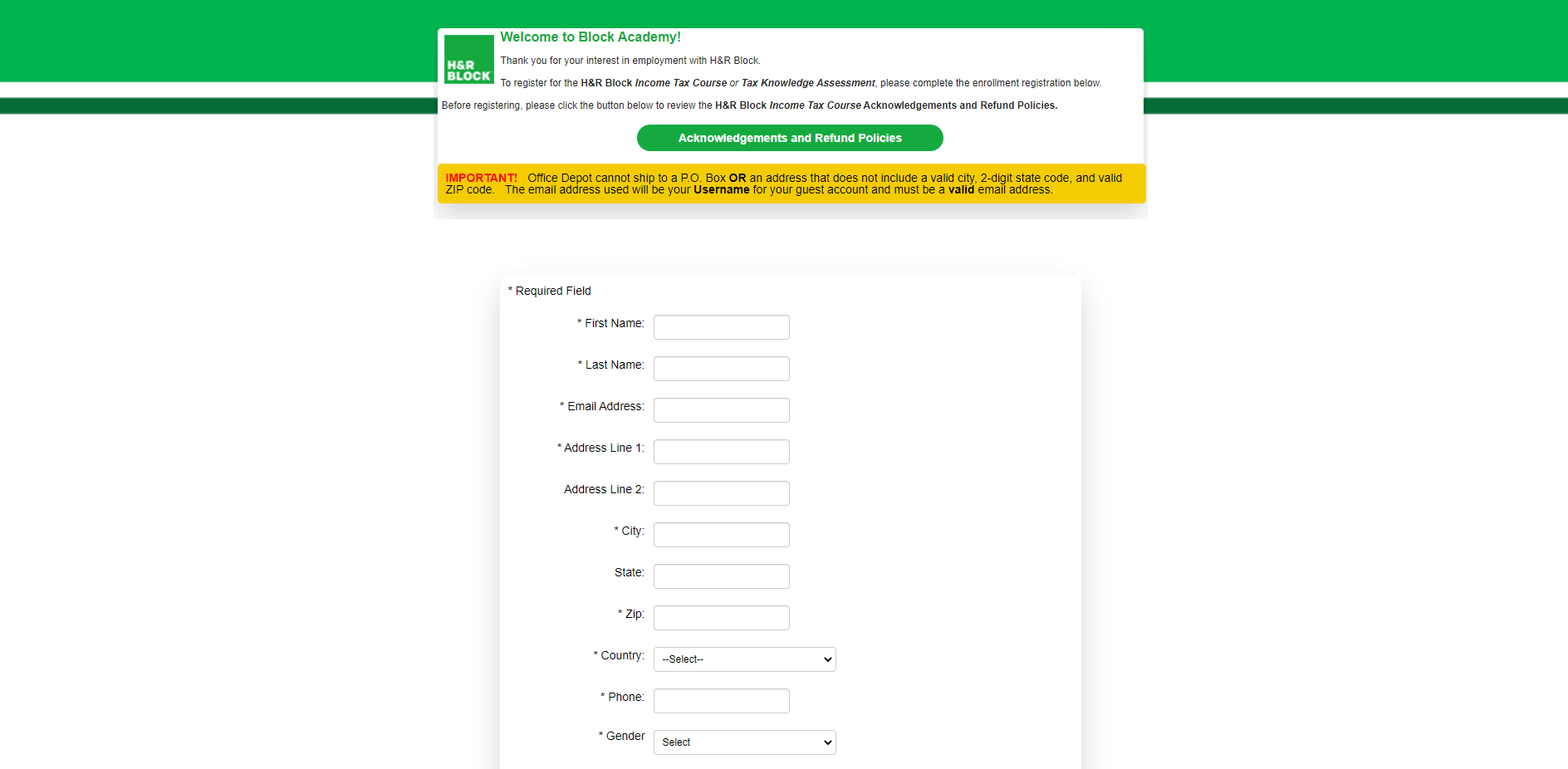 But first, you have to fill out the personal information, and follow the prompts to finish the assessment. Make sure you read the acknowledgements sand policies before you begin by clicking the appropriate link at the top of the page. 
How to Login to Your Block Academy Portal at HRBlock.csod.com
After you are enrolled in an HR Block Class you can visit the Block Academy login page directly at https://hrblock.csod.com/client/hrblock/default.aspx.
You can also go to www.hrblock.com/class and scroll down slightly until you see where it says, "Already enrolled in the tax course? Pick up where you left off." 

Then, you can either enter your Guest Login or your Associate Login and follow the prompts to continue to your Block Academy account.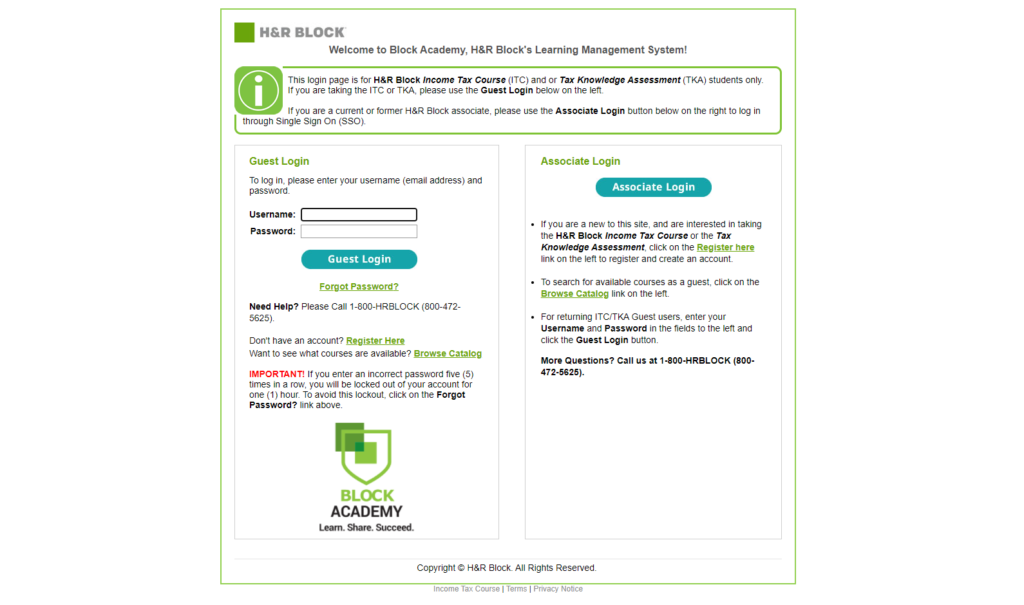 Benefits of H and R Block Tax Preparer Courses
Virtual Learning – You can take online classes from home. There are also in-person learning locations available. You can use both e-book materials as well as multiple hours of online training and in-person education. 

Flexible Class Schedule – You can select your own pace as classes run from August until December. During that time, you will receive hands-on experience using innovative tax software.

Skilled Instructors – The H&R Block leaders handpick top tax professionals to teach each course. Enjoy interactive, professional discussions as well as real-time tax prep exercises and one-on-one instructor assistance. 

Extra Income – After completing your hours successfully, you can professionally prepare taxes through a meaningful career. 
H&R Block Course Details
Taking the hr block classes means you will understand both federal and state tax laws and comply with due diligence requirements for tax preparers. You will be able to conduct a taxpayer interview and offer tax advice (to more than just your friends and family). 
The course covers topics such as:
Wages, Income, and Taxes

Tax Planning

Tax Filing Requirements

Qualifying Dependents and Support

Self-Employment Income

Passive Income

Itemized Deductions

Depreciation

Education Provisions

Penalties and Amended Returns

Retirement Contributions and Distributions

Farms

Interest and Dividend Income

Tax Software

Capital Assets

Other Income and Adjustments
Graduates of H&R Block Tax Course
As a graduate of the H&R Block classes, you will receive several benefits, including the following:
73 Qualifying Education Hours

H&R Block Certification

3.5 hours of recognized credits with the University of Phoenix® 

3 hours of recognized credits with Western Governors University®
Continued Training at HRBlock.com/class
When you visit hrblock.com/class or hrblock.com/tci, you can also find a link that allows you to partake in continued training. Scroll down the page until you find the following:

Ther is a link to learn more about receiving credit through NASBA and IRS-certified on-demand tax training courses. Click on the button that says 'Earn additional continuing education' and it will take you to the following page: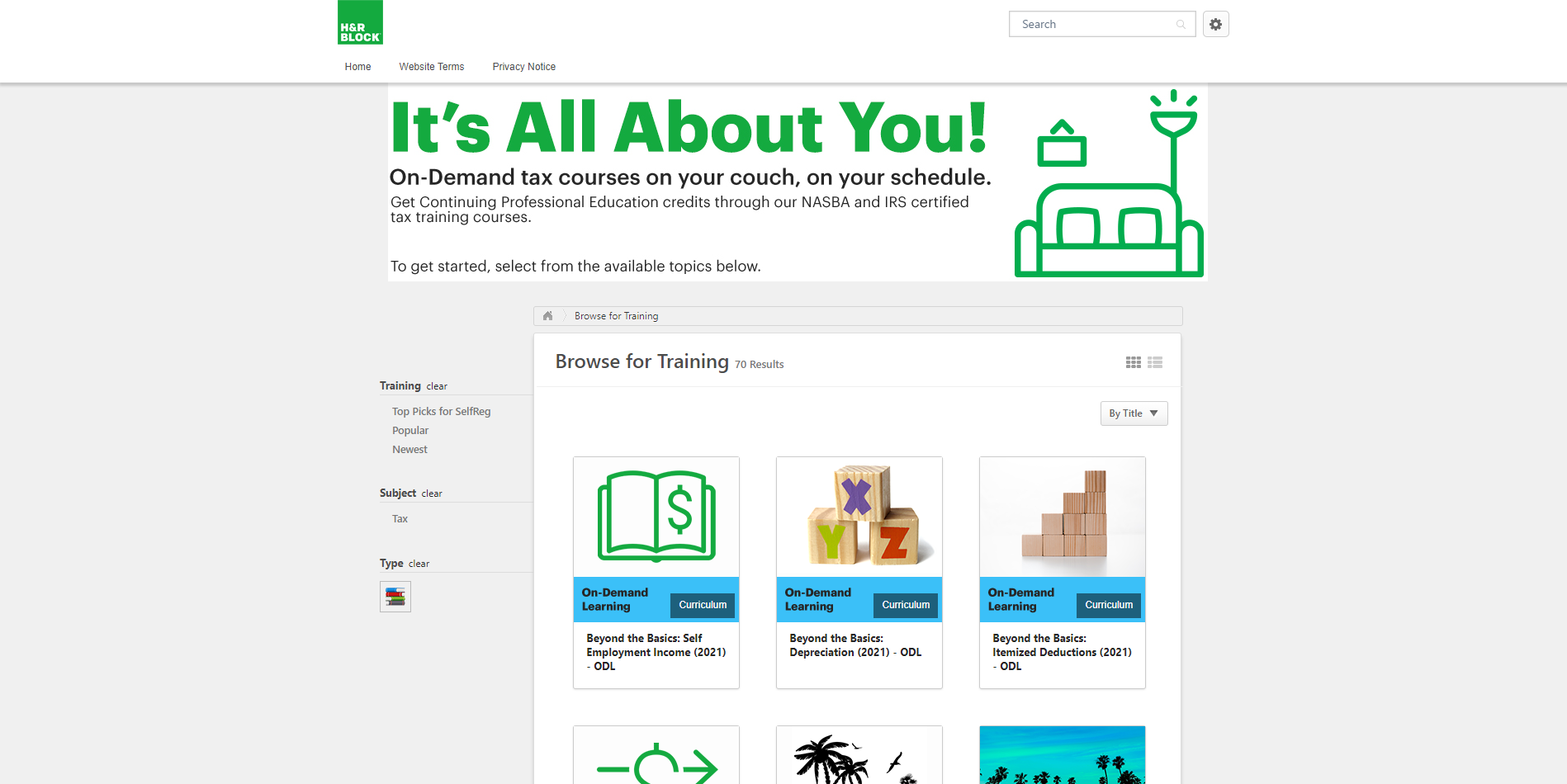 Submit a Contact Form to Learn More About H&R Block Classes
When you go to hrblock.com/class, you can fill out a form at the very bottom of the page. 
If you complete and submit the form, H&R Block will contact you to provide more information about the schedule and when you can start classes. 
FAQs About H&R Block Tax Courses
Anyone who enrolls in the H&R Block classes will cover various topics surrounding finances. That way, you can prepare various kinds of tax returns. Not only can you help save money on your own taxes, but you can get paid working for H&R Block during the tax season. 
Who Can Enroll In The H&R Block Tax Classes?
You don't need a college degree to take these H&R Block classes, and you need to have a high school diploma or a qualifying GED. Furthermore, you don't need any previous knowledge or experience to enroll in the tax classes. Sure, you might develop the concepts faster if you have an understanding of basic finance, but math skills are not a requirement (you can use a calculator!). Anyone is welcome to attend the classes, even if you work for another tax company. 
Where Can I Take H&R Block Classes?
Did you know that many H&R Block offices become classroom spaces during the off-season? You can enter your zip code here to determine if there is a spot near you. If you want to attend in-person classes, you will meet at the same location for each period. 
What Should I Expect While Taking H&R Block Courses?
Schedules often break down into two classes per week. Each class is usually a three-hour period. However, faster options are available in some cases, such as three classes per week to finish a month sooner. It depends on the location, and some even offer all-day Saturday courses for several weeks. Outside of the classroom (or online) study, you will have homework and need to study to keep up with the information. 
H&R Block Tax Course Cost
The price of the HR Block tax course varies depending the course you choose and the location. They can often range from $100-$300 per course. The good news is these costs typically include the need books and other course material.
H&R Block Tax Knowledge Assessment Test Questions and Answers
While there are various website out there claiming to have the final exam questions and answers these are unreliable because the tax laws are ever changing and thus the test questions and answers are updated accordingly. If you are taking an H&R Block academy course it is best that you don't look for shortcuts such as this considering that you will actually need know these things when doing others taxes.
Working for H&R Block
Even though this popular tax company is the largest seasonal employer in the nation, senior staff members work year-round at the same local buildings to train new workers. 
Did you pass the basic training course successfully? Congrats! You can apply for an interview with H&R Block. Although this doesn't guarantee you a job, you will have the tax knowledge needed to fulfill the position as well as the willingness to help people. 
The free training course at hrblock.com/class will help you get the upper advantage. If you pass the course, you have a better chance of working either seasonally or on a regular full-time basis. 
H&R Block Training Certification Levels
If H&R Block, or a franchise, hires you, you can receive further training and become eligible for certifications. Tax pros working with H&R Block adhere to these six designations, which the company creates:
Tax Associate

Tax Specialist

Senior Tax Specialist

Tax Analyst

Senior Tax Analyst

Master Tax Advisor
Your Career at H&R Block as a Tax Specialist
Not only can you earn additional certification with H&R Block, but you can specialize in certain fields. A tax specialist can offer multiple advanced services to their clients and work within several positions, including the following: 
​

Enrolled Agent:

​ This type of agent is certified by the IRS to represent taxpayers during an array of tax issues, including audits. Also, they can help if an applicant needs to pass a criminal background check, an IRS exam, or a character suitability review.

​

Retirement Specialist:

​ If you are retiring soon, you should consult with this specialist to learn about options like preparing tax returns with retirement plan contributions, rollovers, and distributions.

​

Military Service Specialist:

​ This tax pro is trained in military tax laws and can help families within the service. 

​

International Taxation Specialist

​: With this specialization, you will understand international tax issues, including foreign earned income exclusions, foreign tax credits, and treaty benefits for nonresident aliens.

​

Certified Public Accountant (CPA):

​ A CPA has state certification to practice accounting and is licensed to represent their clients on behalf of the IRS. 

​

Small Business Specialist:

​ This specialist has training for tax situations regarding sole proprietors, partnerships, and S corporations.

​

Investment Income Tax Specialist:

​ You will advise clients on tax implications stemming from investment portfolio options, including capital losses and gains.
Contact & Support Options for HRBlock.com/class 
Are you looking for help with your H&R Block tax course? Even if you didn't enroll yet, and just have questions, feel free to reach out to either of the following contacts for support.