HomeDepotRebates11percent – Home Depot offers such a wide variety of ready-made and do-it-yourself product offerings that maybe you consider the store your second home. If so, then you'll be pleased to know that the home repair and restoration retailer currently has a Home Depot 11% rebate program going on at www.HomeDepotRebates11percent.com.
It's important to also know that there's quite a few stipulations that you'll need to follow in order to claim your potential 11% rebate. You should also know that not all of the the retailer's store locations are a part of the 11 percent program. Here's a walk-through of what the program entails, how to find out if you shop at a location that qualifies, and what you'll need to do to claim your potential reward at https://www.homedepotrebates11percent.com.
Home Depot 11 Percent Rebate Guide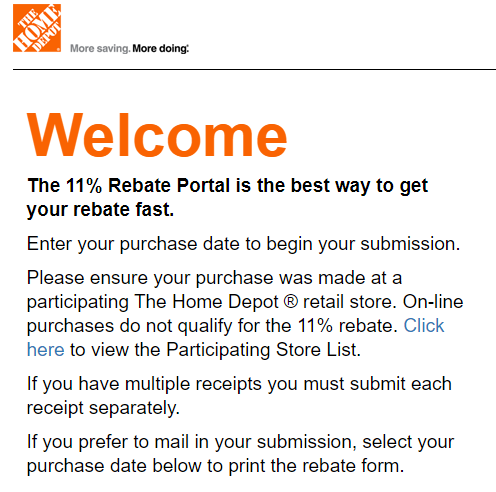 The first thing you will need to understand, right from the start, is that the company often runs a few rebate promotions at a time. The Home Depot 11% rebate is its own stand-alone program. You'll need to go the dedicated page  for this program in order to take advantage of this promo (homedepotrebates11percent.com).
There is the homedepotrebates.com page, but these are different promotions that have dedicated processes. Specifically, these are processes you will need to follow if you've purchased
Paint
HVAC (systems, tools, parts)
John Deere Equipment
If you'd like to see what you can qualify for after making these purchases, then you are free to go to the Home Depot Rebate 11 website mentioned above. But the 11% promo is found on its own dedicated url, and you should go there to follow the directions if you want to claim this promo reward. There is also a separate Home Depot Paint Rebates available if you've specifically purchase Behr paint.
Pro tip: If you prefer Lowe's you'll want to check out our review of the Lowe's rebate program.
Step 2: Pay attention to the dates
When you land on the appropriate url page for the 11% promotion, you'll see a box prompting you to enter the date on your receipt. But before you do this, you'll want your eyes to travel down to the lower left side of the page. There, you'll noticed at least one set of hyperlinked dates.
You will need to look at the dates to see if they correspond with the date on your receipt. Check out your receipt to see what dates you've shopped on. Then see if that date falls within the hyperlinked date range on the page. If your date falls within the promotion, then you are free to go to next steps. You'll enter in the purchase date that can be found on your receipt in the box mentioned earlier. Then hang on tight for your next steps.
Step 2: See if your store location qualifies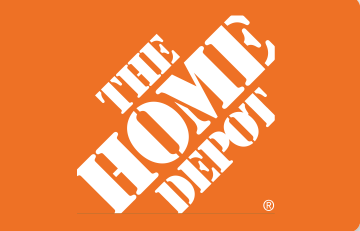 Unlike many other types of rebate promotions, the company does things a little differently for certain promos. Instead of allowing all of their retail locations to qualify for the promo campaign, only purchases from certain store locations are going to qualify for the Home Depot 11% rebate program.
Remember the hyperlinked dates that were mentioned earlier? Let's say that you found your dates for qualification. Click on those before you move through the box on the upper right.
After clicking on those dates, you'll be led to a PDF page. That page contains two pages of documents. The first page is the actual rebate form that you'll submit. The second page contains a long list of retail locations that qualify for this campaign.
Specifically, you'll have to look up the store location that's grouped by state. You'll notice that not all 50 states are represented for this campaign. You can only claim this rebate IF you shopped at a specific location in the specific state listed.
Keeping this in mind, if you haven't shopped yet, and your current date of time falls within the promotion, and if you live near a participating location (that's not your regular location), then it might be worth your while to travel a bit so that you can qualify for the rebate 11% campaign.
Check the FAQs and completely follow directions
If you have more questions about qualifying for the campaign, along with answers on process expectation management, then check out the FAQ section (https://www.homedepotrebates11percent.com/#/faqs). Be sure to follow all of the directions, because you can't claim the appropriate reward (or any reward at all) if you don't.