Did you receive a myinstantoffer preapproval and want to know if the myinstantoffer rsvp code is legit? My Instant Offer is a pre-qualified offer for a personal loan from Lending Club. Although approvals and rates will vary from person to person, the My Instant Offer service matches loan borrowers with investors. You can visit myinstantoffer.com lending club to apply for a loan with your code. All loan applicants should be at least 18 years of age and a resident of the United States. 
MyInstantOffer.com LendingClub Review
MyInstantOffer.com is through LendingClub, which offers personal loans from $1,000 up to $40,000. To apply at myinstantoffer.com, you need a personal funding code. Perhaps you received one in the mail. Or you can just go to the site to recover it — no problem!
Before applying, you should also have good credit, an annual income of at least $79,000, and a low DTI (debt-to-income) ratio for approval. WebBank, a Utah-chartered industrial bank and FDIC member issues the MyInstantOffer promotional letters and makes all of the loans. 
Below you can read our review of the Lending Club peer-to-peer loan service along with how to begin the funding process.
Steps to Take If You Received A Lending Club Pre-Approval Code 
If you have your myinstantoffer rsvp code, go to www.myinstantoffer.com.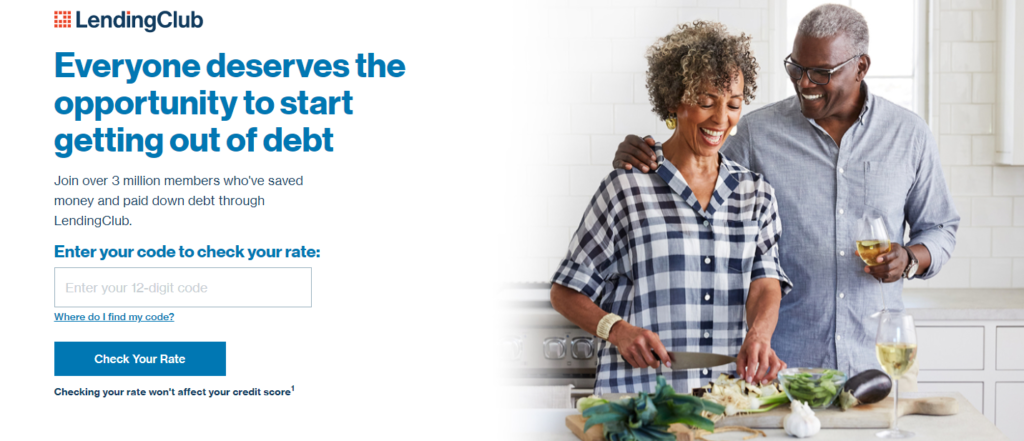 Type in the 12-digit code, which consists of letters and numbers, and click the box that reads, "Check Your Rate."
If you don't know where to find your code, simply click on the link that says, "Where do I find my code?" and a box should pop up with information about your 12-digit code. 
If you prefer to call to apply for your myinstantoffer loan, call 1-855-363-4151 for toll-free service. 
The Benefits of MyInstatOffer LendingClub
You can get a real personal loan rate with your 12-digit code without inputting your social security number. Simply type in your name, birth date, and other details to receive your best loan offer. Checking your rate at myinstantoffer.com will only generate a soft credit inquiry on your report — only visible to you — and not affect your credit score. 
If you are approved, you can use your personal loan for many reasons. Do you have high-interest debt? You can pay it down with one monthly payment instead of trying to juggle multiple credit card bills. According to LendingClub, the average member saves hundreds of dollars, sometimes up to $1,000, by consolidating their high-interest debt this way. 
Getting a loan through myinstantoffer should be fast and easy because you can apply in just a few minutes using your pre-filled application. You can select the loan offer of your choice, including the rate, term, and repayment options. You can borrow as much as $40,000 in just a few days if approved. 
Who Should Apply At www.MyInstantOffer.com?
If you apply for the myinstantoffer loan, you need to have several requirements in order to gain approval, including the following:
Minimum credit score of 600

Minimum credit history of 3 threes

DTI ratio 40% or less for single applicants 
For joint loans, borrowers must meet at least the following requirements to qualify:
One borrower needs a minimum credit score of 600

The other borrower cannot have below a 540 credit score
Interest-only payments for up to three months are available for borrowers who display hardship. 
Company Information and Customer Service
LendingClub has proudly connected borrowers and investors all over the US since 2007. The company has helped over 3 million members gain over $60 billion in personal loans. 
Corporate: 1-415-632-5600

Address: 595 Market Street, Suite 200 San Francisco, California 94105
If you have questions about your Lending Club myinstantoffer application, call the toll-free number below.