If you are searching for  a great VoIP home phone service the magicJack from VocalTec, LTD is one of the best values but it does require a magicJack Go or magicJack Express adapter in order to use the service.
If you recently purchased one of these devices then you need to register, activate and install it. Both of the these magicJack device have the same setup process which we have discussed below.
How to Setup Your magicJack Device at MJREG.com
If you need help setting up your magicJack at www.mjreg.com, keep reading for our complete magicjack registration and installation guide so you can get your new phone service setup and start making phone calls right away.
Everything you need to know about the MJREG registration site is included in our guide below. 
How to Set Up Magic Jack?
Before you can activate your magicjack and complete registration, you have to take a look at your package. Your product came with a magicJack, ethernet cable, power adapter, and USB extension cable.
There is also a detailed list of step-by-step instructions to easily complete the magicjack setup.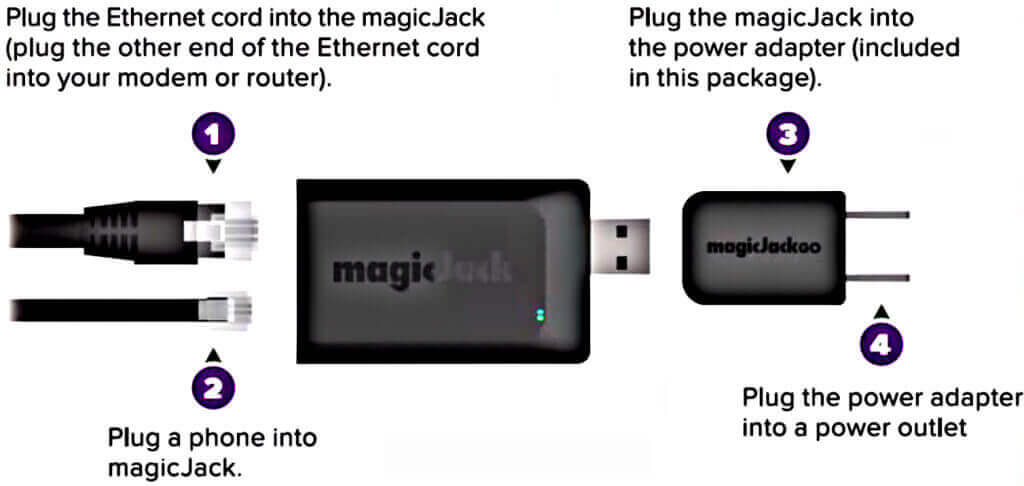 Plug the ethernet cable into the magicJack. You will notice two ports available. Choose the one that reads the internet. Plug the ethernet cable into that magicJack port until it clicks. 

Insert the other end of the ethernet cable into your modem or router — whatever device you use for high-speed internet. Your modem or router may have multiple ports available. Please select one and plug the ethernet cord into the modem or router until it clicks. 

Next, plug your phone into the magicJack. Use the other available port labeled phone and push it in until it clicks. 

Plug the magicJack into the power adapter. Finally, plug this power adopter into a wall with electricity. If you need more room, you can also use the optional USB extension cable to extend the length slightly. 
Now that you know how to set up magic jack, you can register magic jack at mjreg.com. 
How to Complete Your magicJack Registration using MJREG.com
You are not done with your magicjack go setup or magicjack express registration yet. Now you must visit www.mjreg.com to register your device and receive a phone number if this is your first time with the magicjack setup. 
*Note: Keep in mind that you should have your device connected to the same internet as your magicJack device for a complete mjreg.com installation. 
On the homepage at www.mjreg.com, click Detect Device and follow the prompts to complete your magicjack registration at mjreg. You can start a new magicjack account or transfer old accounts from other devices.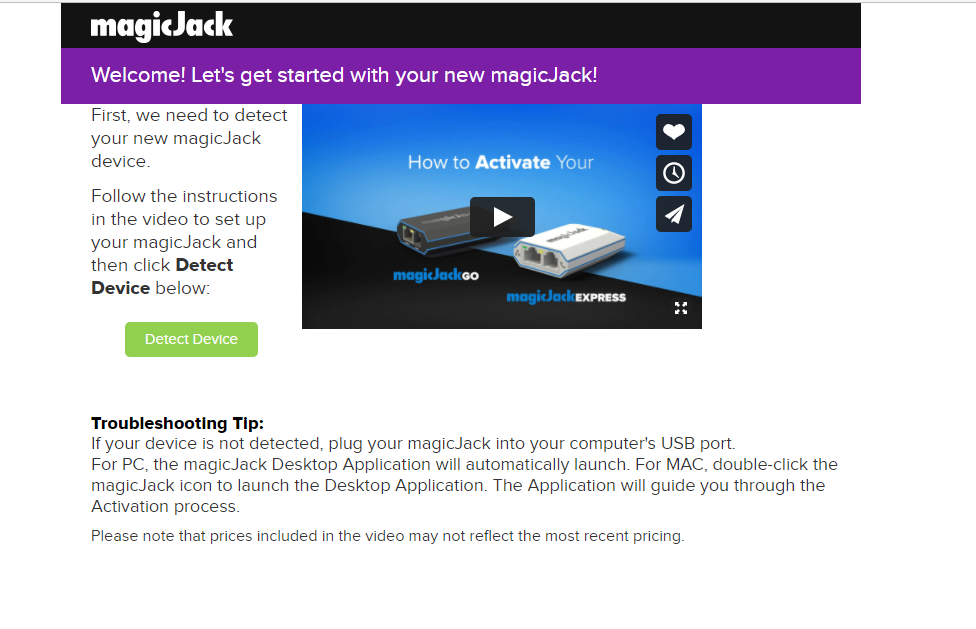 After your device is detected, you can create an account to manage your magicJack product.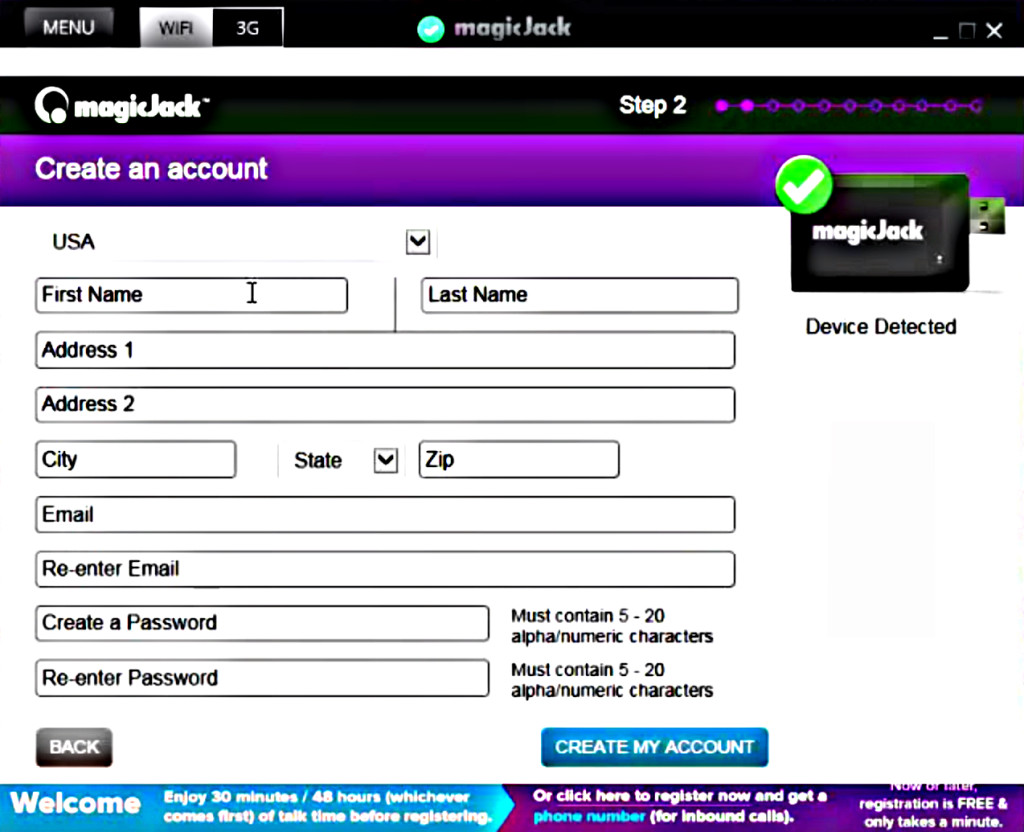 Enter your first name, last name, address, email, and password according to the requirements. Click the Create my Account button and follow the prompts.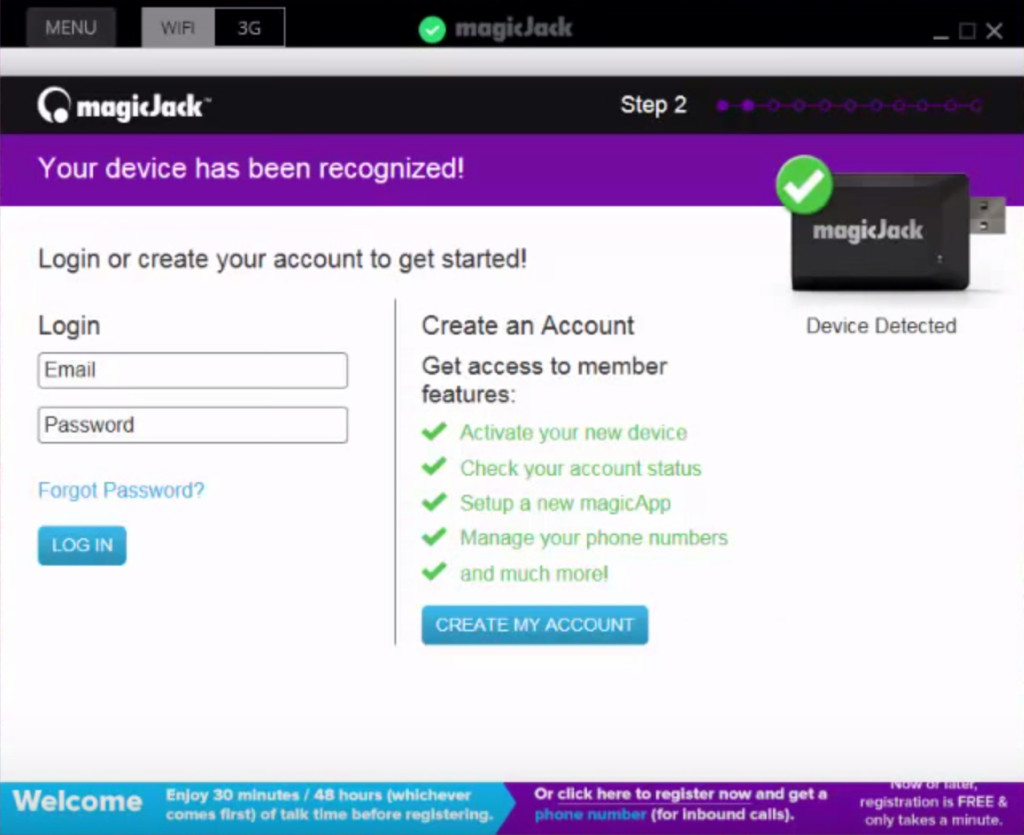 Then, you can login using your password and username, and manage your phone numbers, setup a magicApp, and more. If you forget your password, simply click the link and follow the steps to retrieve your password using the email on file.
Troubleshooting Issues with the MJReg.com Registration Site
Is your computer not recognizing your magicjack product? All you have to do is plug your magicjack into your computer's USB port. Keep reading to learn how to set up magic jack using your computer. *Note: There is also a helpful video that you can watch to explain the complete magicjack registration, setup, and activation with or without a computer. 
Complete MagicJack Registration Including Plan Options
For magicjack registration using your computer, you can plug your device into your computer's USB port. 
The magicJack desktop client will automatically open on your Mac or PC. That way, you can recognize your mjreg device. That way, you can get a phone number and start receiving inbound calls.
First, you have to enter a name to identify your magicJack. It can be silly or serious — whatever you want! Next, you will need to send an activation code by email. Click the Send My Code button.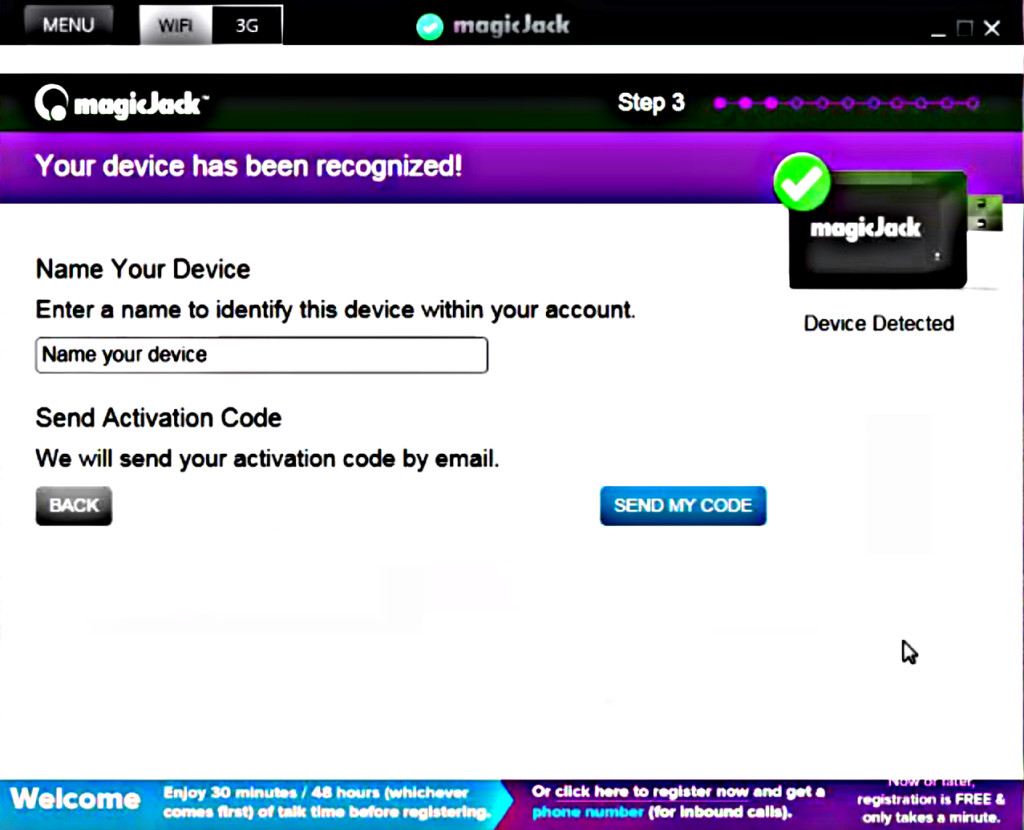 On the new page, please enter the code you received in your email and click Activate my Device. If you didn't get a code in your email for magicjack setup, you could click the link that reads Didn't get the email? Resend. to try again. After getting the correct code typed in, click Activate My Device.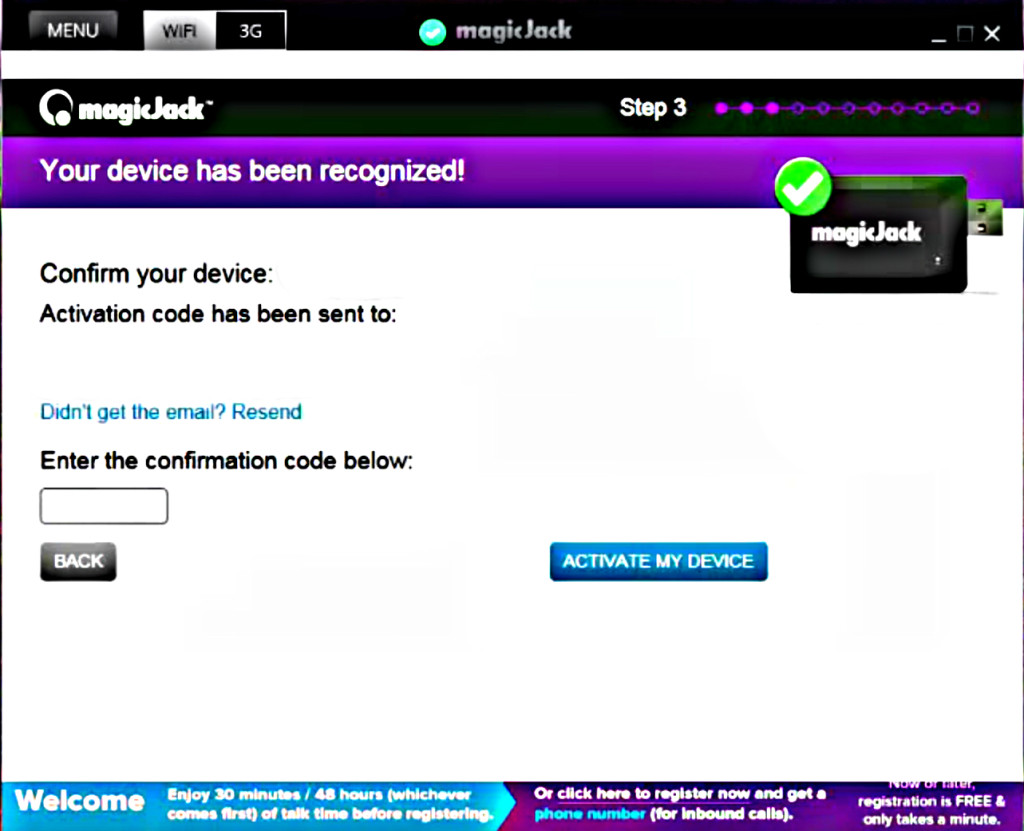 You must agree to the terms of conditions of the magicjack registration and magicjack installation download.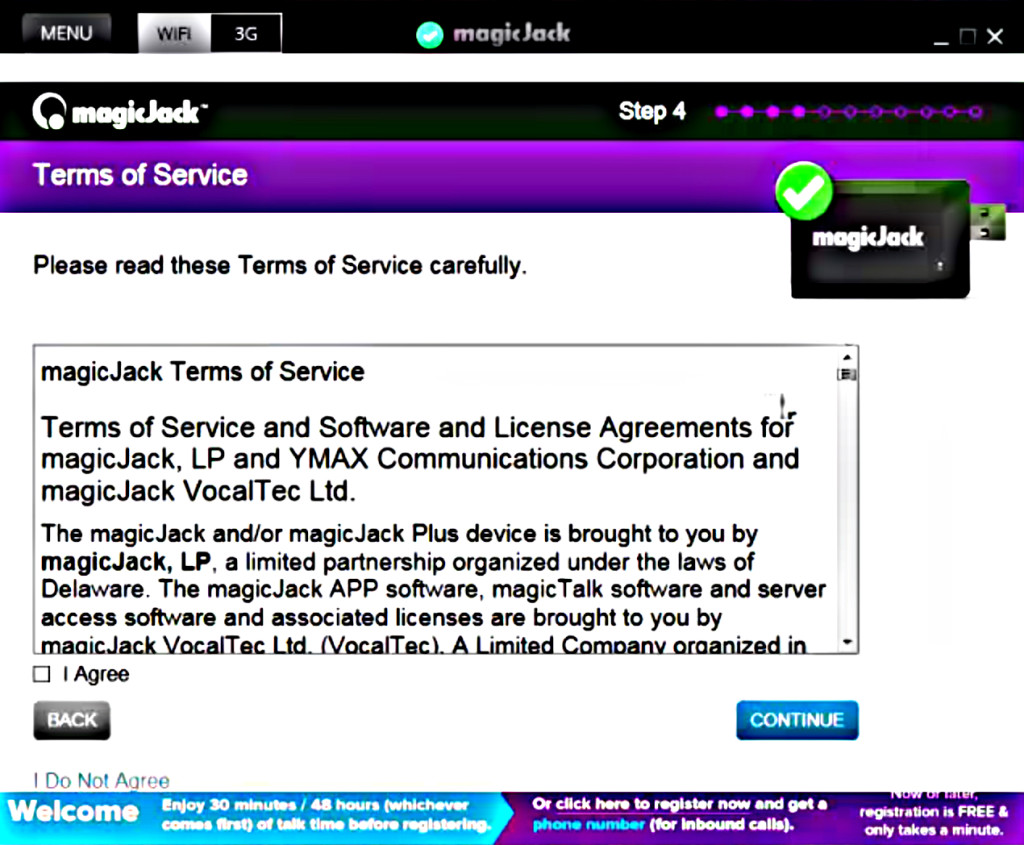 Next, choose your state, area code, and prefix, as well as your phone number preference. At this stage of the mjreg registration, you can select between a free American number or a free Magic number. American vanity numbers and port my numbers are options, as well as a Canadian phone number. You also have the opportunity to choose your last four phone number digits for a fee. Click that box if you want to go that route and continue to follow the prompts accordingly. Select Add to Cart & Continue.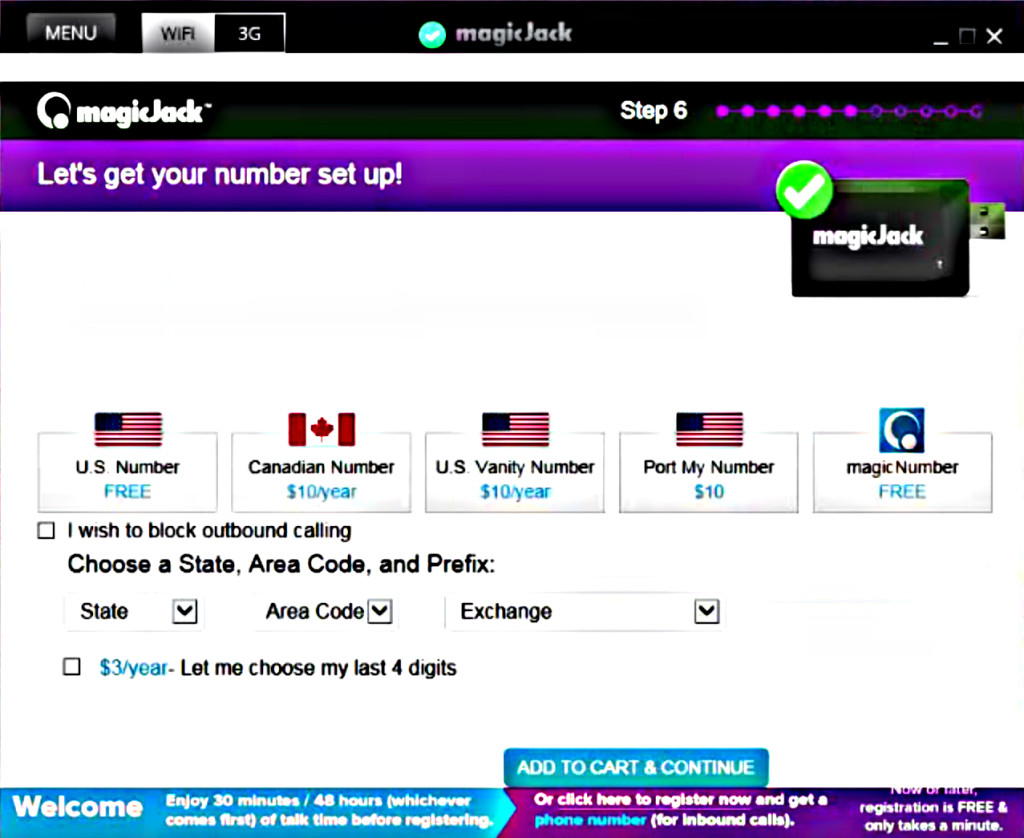 To finish your mjreg, you can select 911 services and provide an address concerning your phone number. Alternatively, you could click I won't be using a magicJack device in the US. After you make your selection, click Confirm. You will have another box open to confirm if your address is correct and if it is within the city limits or not.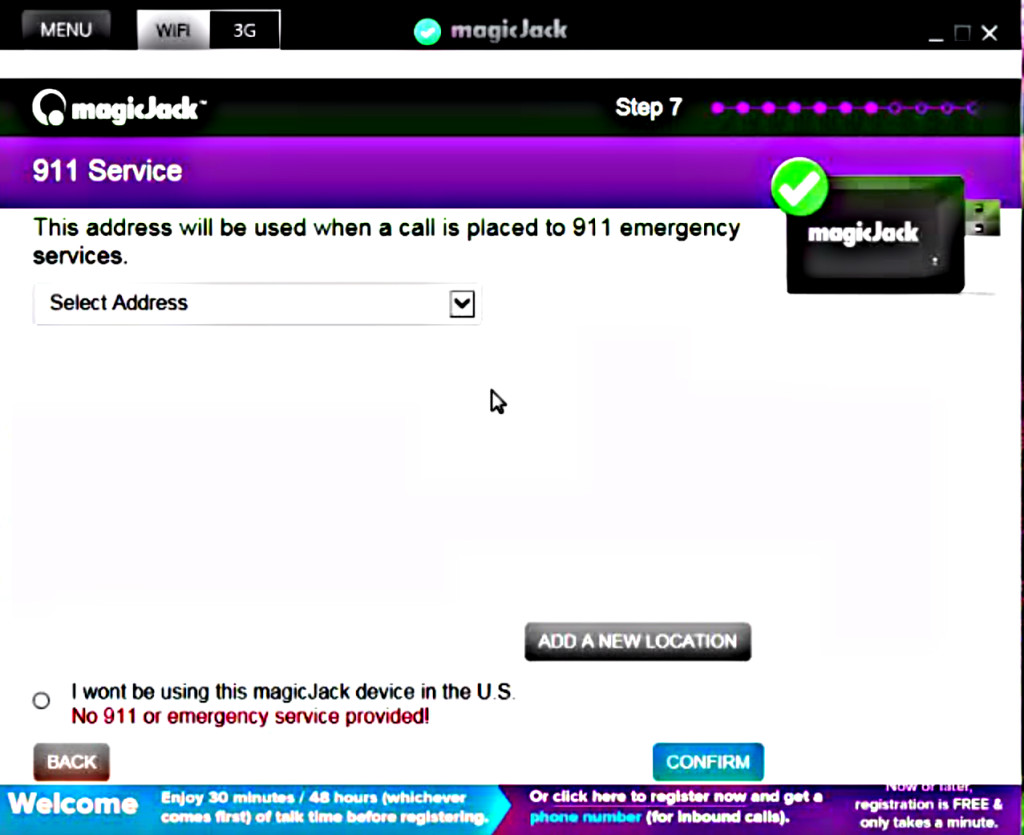 Continue with your magic Jack registration by choosing a plan. Most likely, you will be offered 12 months of service with a new magicJack device. This page will also show your expiration date, which should be a year from the current date. You can select a one-year plan, auto re-up annually, or a five-year plan on this page. Make your selection and continue.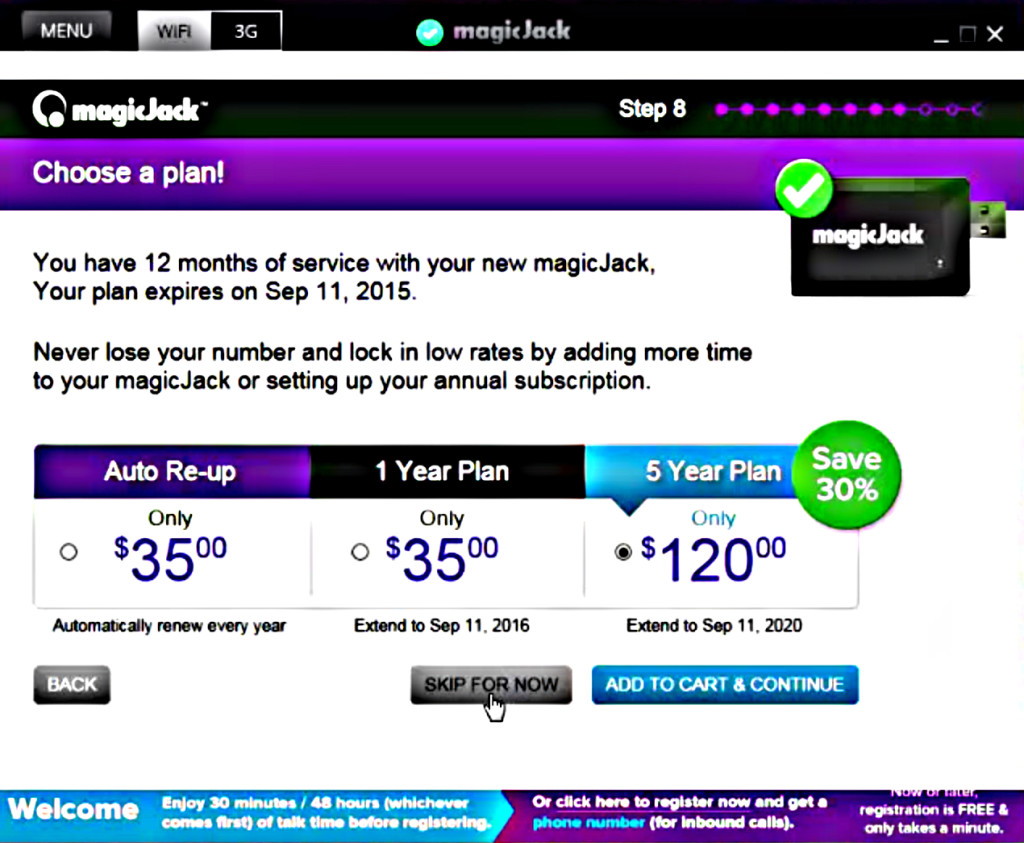 Next, you have the option to add international calling credits during your mjreg.com register. You can select an international plan that includes over 20 countries with various plans ranging for multiple credits that translate to a couple of cents per minute. You can either choose to Skip for Now and/or Proceed to Checkout. 

Your screen will reveal an itemized list based on your selections. You can either click Back to adjust something in your plan or click Place Order.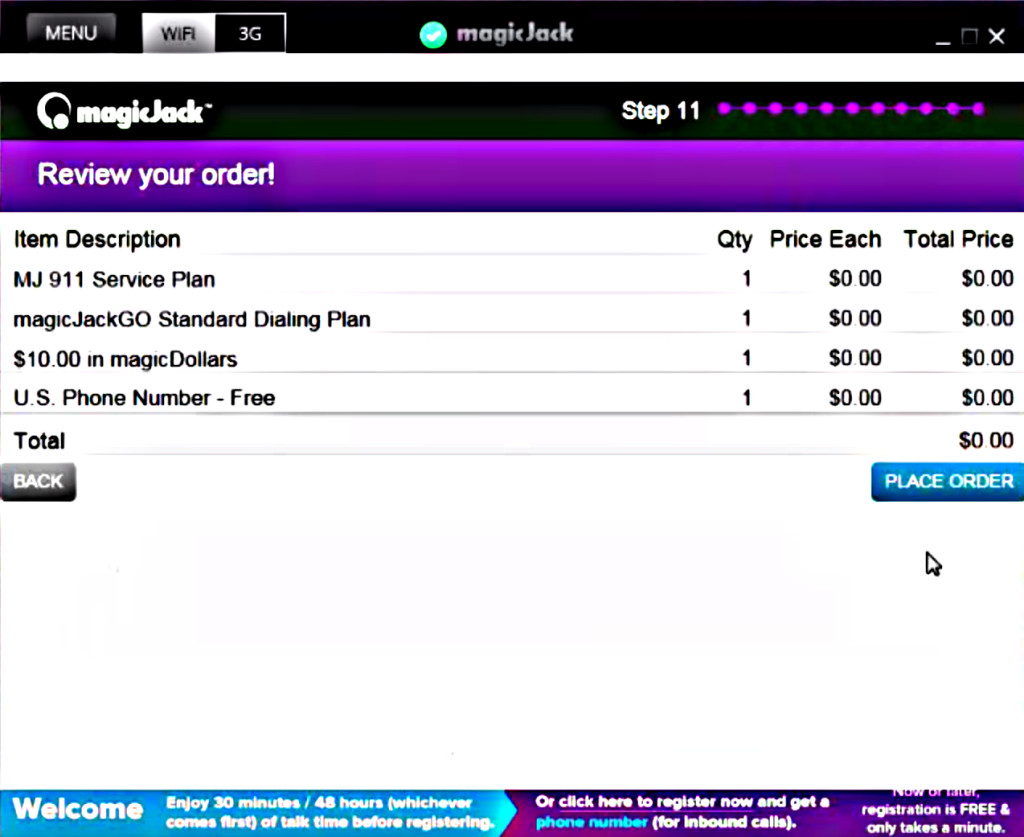 If completely free (or after making your payment), you will see a congrats screen explaining you are complete with activate magicjack. You will receive your number on the screen as well. There are two options available at this point during mjreg. You can select Close Window and Start Making Calls with Your PC or Click to Exit Application and Start Making Calls without Your PC.

Suppose you want to start making phone calls with your pc. You will see a phone-pad-like screen. You can enter phone numbers to call people right away. You can also enter contacts for saved information, set up a voicemail, and see recent phone calls. 
magicJack Customer Service
Sales/Renewal
1-800-magicJack (1-800-624-4252)

M- F between 9 am – 11 pm 

Sat – Sun between 9 am – 6 pm
Billing/Customer Service
1-844-866-2442 within US/CAN

1-561-594-9925 outside US/CAN

M – F between 9 am- 7 pm
Technical Support
*Note: Please understand that existing customers must verify account information for security purposes, including the full name on the magicJack account, the magicJack telephone number, your complete billing address, and the email address. You can retrieve your information by logging into my.magicJack.com.
Final Words
It is free to register magic jack at mjreg.com. It only takes a few moments, and various plan options are available. Please keep in mind that any pictures in this article with prices may change by the time you buy your device and go to complete the registration process. Hopefully, you can enjoy using your new VoIP phone service and all of its features thanks to mjreg.com register. From very affordable yet crystal clear sound quality, having the option to port your number or pick the last four digits of your phone number to including call credits for cheap international calls with your package make magicJack an excellent option for those who need phone jack services.