MyBeerRebate.com – If you enjoy a tasty beer every once in awhile then you'll love to hear that you can save some money on your beer purchases at MyBeerRebate.com. The great news is that these beer rebates are not limited to any one type of beer or even one beer maker. At MyBeerRebate.com you can get a rebate on hundreds of different types of beer and brands and you never know which ones are currently offering a rebate until you get to the liquor store.
So whether you're looking for Molson Coors Rebates, a Michelob Ultra Rebate, an Anheuser Busch Rebate, a Bush Light, Miller Lite or Budweiser rebate or even a Bud Light Seltzer Rebate or Stella Artois beer rebate you should read on for more details on how you can save some green with the MyBeerRebate program.
Save Big with the MyBeerRebate Program
If the beer you purchased is a participant in the MyBeerRebate program the packaging or label with say so and include details on how you can claim your rebate.
To start out you need the following to claim your beer rebate:
Your Beer Rebate offer code.
Your receipt including the date and location of purchase
How to Complete Your Beer Rebate Claim?
Go to www.mybeerrebate.com.
At the homepage you will see that it has a simple rebate submission for you need to fill out.
Once you have filled the form out with the offer number, purchase date, your email address and your zip code click continue.
On the next page you will need to enter the upload pictures of the UPC code of the beer you purchased and a picture of your receipt.
Continue through the steps and one on the final step submit your beer rebate claim.
Once you have submitted everything you will receive a tracking number which can be entered at https://www.mybeerrebate.com/#/tracker to track the status of your rebate.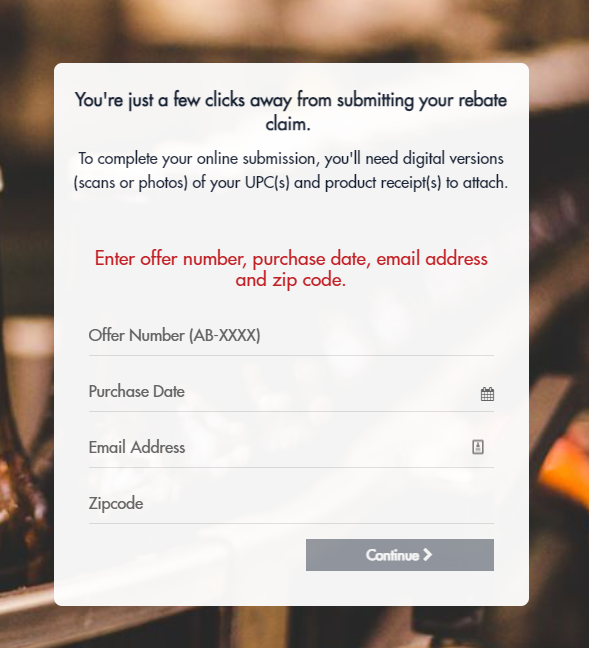 How Long Does it Take to Get My Beer Rebate?
These type of rebate rarely ever come quickly and processing for this one can take anywhere between 6 to 8 weeks. It can come sooner but I wouldn't expect it.
If it's been 8 weeks we suggest you give it another 1-2 weeks before contacting support, just incase their are delays with mailing your beer rebate.
We also recommend that you check the status of your beer rebate on the rebate tracker page.
MyBeerRebate Claim Support
To get support from the MyBeerRebate team you can visit the official site and check out the FAQ page, cardholder support and if you're still stumped you can visit the contact page to get in touch with their support team.
They offer 2 types of support including web chat support and a customer service phone number at 855.242.1203.
Conclusion
If you love beer but feel that you might be spending a little bit too much the MyBeerRebate program is a great way to save some money on your beer purchases. The program is totally random and there are often many beers and brands of beers that have rebates available and the change often. The process to claim your rebate at mybeerrebate.com is super simple and they offer easily accessible support if you're having trouble filing your claim or receiving your rebate.