If you've come to this article today because you're curious what Glance Intuit is then you're at the right place. Below we have covered a brief review of what this remote access software is and what is can do for you! So read on if need help with Quickbooks or Turbo Tax andwant to start a remote session with the Glance service offered by Intuit but want a little bit more info about it before giving someone access to your computer.
What is Glance Intuit Remote Session Screensharing?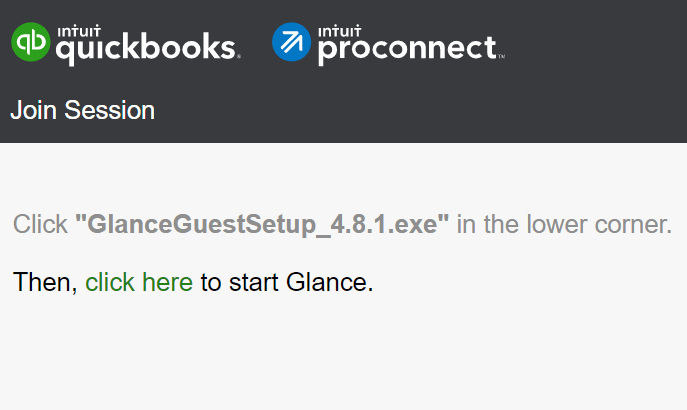 This software is a remote access customer support service offered by Intuit for both Turbo Tax and Quickbooks users who need help using the softwares. Whether you're an accountant or just someone trying to do your taxes you can quickly and easily share your screen with an Intuit Representative by joining a sessions you initiate. This allows the customer support rep to help you much faster than if you were to make a phone call to customer support or even a video call. This is because the remote sharing feature allows them to quickly and easily take over your computer and show you how to complete the step that has you stuck.
Is it safe to join a remote session?
This form of remote sharing isn't new and companies like Microsoft have been offering it for years with their Windows support services. The only people who can access your computer when using the Glance Guest software are Intuit representatives and you have to specifically login to the Glance software and request a connection for this to happen and enter a code to connect.
Rest assured you have the power to terminate the remote access session at any moment.
Is Glance.Intuit.com a malware site or is it safe?
No! www.Glance.intuit.com is emphatically NOT MALWARE. The website is confirmed to be owned by Intuit and it is 100% safe. The official site is for their software glance.intuit.net but when you go to the '.com version' it automatically redirects you to the '.net version'.
We suspect the reason there are sites suggesting that it might be malware is because when you visit the URL is starts an automatic download of the glance guest software suite.
While this automatic download may surprise you this is perfectly normal so rest assured there's nothing to worry about.
What about the site Turbotaxshare.intuit.com, is it safe?
This is the URL Intuit uses to advertise Glance support to Turbo Tax users. It redirects visitors to the exact same glance.intuit.net website and of course starts the automatic download of the installation file. There is no difference to the end user meaning they can go to either URL and their download will automatically begin.
Getting help with using glance guest 
For further information and details we suggest you contact glance through the channels below:
www.intuit.com/company/contact
Email Support: [email protected]
https://help.glance.net/
Intuit Support: 1-800-446-8848
Sources:
www.youreviewit.com/tutorials
www.thevoiphub.com/tech-support