Intuit is a U.S. based company that provides accounting, tax and personal finance services. Some of their most popular services include their QuickBooks and TurboTax software.
TurboTaxShare.intuit.com is particular has been created to help provide remote live screen sharing support to help individuals complete their taxes or quickly and easily from within the Turbotax platform.
TurboTax Share Intuit Live Support from Glance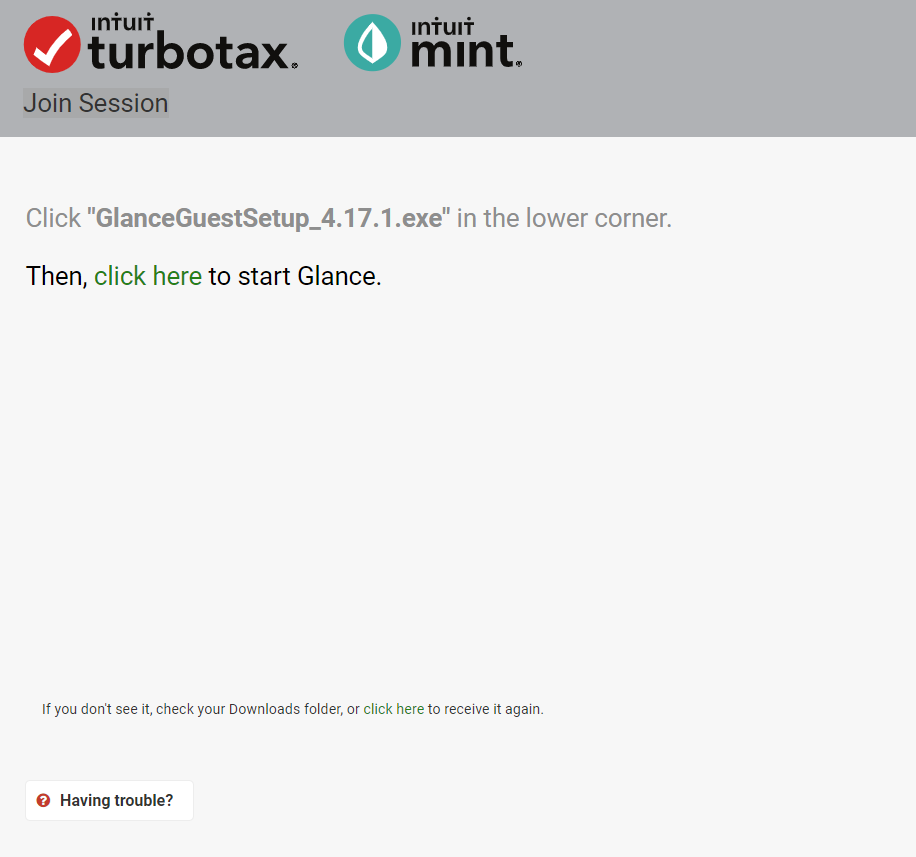 Screen share from TurboTax uses Glance Guest software and allows representatives to see what's on your screen to help with problems you may be experiencing. They can even remotely control your computer to complete the task if you so choose.
An expert from Turbotax can use the screen sharing software to investigate the problem directly on the customers computer resulting in a quicker solution and leaving customers more satisfied.
If you're interested in more information related to using Intuit's remote support tool to get help in completing your taxes read on below as we provide more details.
Downloading the TurboTax Share Intuit App and Getting a Screenshare Code
Start by going to

TurboTaxShare.intuit.com which will cause the download to automatically begin

.

Run the file and follow the on-screen instructions to complete the installation.

Visit: glanceguest://visitorshow/www.glance.net?groupid=19185&rc=0 and when the box popups up click the "Open glance protocol handler".

A box will pop up with a 5-digit code.

Supply your screenshare code to the TurboTax agent over the phone and this will allow them to remotely connect and control your desktop.
If you're having issues downloading the software, it could be because existing software on your desktop, such as a VPN or ad-blocker, is preventing the file from being downloaded. Be sure to check there aren't any extensions running that could be blocking your downloads.
Using TurboTax Screen Sharing Support Services
Once you've downloaded and set up the web based application from the TurboTax Share Intuit website, you will have the ability to share your screen with a Turboxtax support agent allowing them to complete the task you are struggling with. They are able to walk you through the tricky parts and exactly where you're stuck in completing your taxes.
People who use Turbox can feel more at ease being able to use the Glance screen share technology as it can relieve a lot of stress when it comes to your taxes. You can save yourself the time and hassle of trying to explain a question or problem on the phone.
Other Related Intuit Support Services
Conclusions
If you want the option to receive direct help when it comes to completing your taxes on TurboTax, using Intuits remote access software could put your mind at ease. The download process is easy and sharing your screen with a representative can solve your tax issues much quicker.