If you recently received your new Wisely Card and need to activate it the process is simple and all described below. Your card is easy to activate online at www.activatewisely.com, with the MyWisely App or over the phone phone. After you've activated your card you can create an account which offers 24/7 account access to check your account activity and balance! Continuing reading for our complete guide to activating your new Wisely Pay ard so that you can enjoy all of the wonderful benefits your new debit card offers you right away!
If you're considering getting a Wisely card through your employer or ADP we've also included a review below our ActivateWisely guide. The Wisely Paycard is a convenient way for employees to have their paychecks deposited into an account which can then be spent via a debit card connected to this account. It's essentially a bank account although not technically the same as a typical checking account. Besides getting early direct deposit you can use your Wisely card to pay bills anywhere Visa or Mastercard is accepted, earn cash back rewards, and more. You'll always have the ability to check your balance, track spending and save money using myWisely, their mobile app which offers 24/7 virtual assistance.
Keep reading to learn about how to activate your card at ActivateWisely.com, by phone, or via the mobile app. You can also discover types of Wisely cards, the benefits, and how to contact Wisely card customer service. 
Wisely Pay Card Review + Guide to Activating Your Wisely Card at ActivateWisely.com

How to Activate Your Wisely Card Online?
Go to www.activatewisely.com to begin your Wisely card activation. You will have to enter your 16-digit card number, the expiration date and click a captcha to advance. Click the Continue button, and follow the rest of the prompts to have complete the Wisely activation.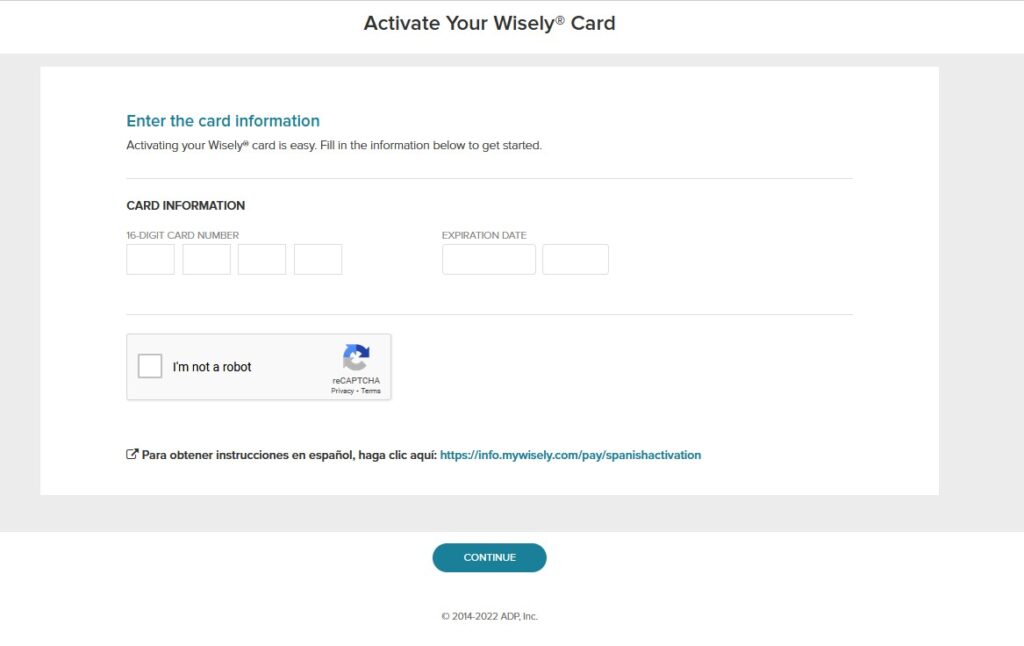 How to Activate Wisely in Español?
If you are searching for activatewisely.com español you can simply go to https://info.mywisely.com/pay/spanishactivation to get started. 
After activating the Wisely card, you can visit mywisely.com to connect your card to an online account. At that time, you'll be able to set up an online account for your Wisely card login. Start enjoying the convenience of online banking without any hassle by getting your wages direct deposited onto your card. 
How to Activate Your Wisely Card By Phone?
If you don't want to go online to ActivateWisely.com to activate your card, you can call the telephone number found on the back of your card. You will have to follow the prompts, including setting up a PIN. Need more help? Call Wisely customer service. 
ActivateWisely PayCard Activation: 1-877-431-5860

ActivateWisely Direct Card Activation: 1-866-313-9029

Wisely Customer Service Number: 1-866-313-6901
How to Activate Your Wisely Card Via App?
If you prefer to complete your ActivateWisely card process on mobile you can do that by using the myWisely app. Simply download myWisely app for free for your Android or Apple devices using Google Play or the iOS store. After you download the app, open it and follow the prompts to activate your card, create an account, and complete Wisely pay card login. 
That way, you can access your account 24/7, check your balance, manage your money, set alerts and notifications, and more from the convenience of your devices. 
Types of Wisely Cards
Wisely offers two types of reloadable accounts with cards and mobile apps for convenient online banking. 
Wisely Pay Card
Your employer will provide you with a Wisely Paycard so you can have fast and easy access to your money. With Wisely, you can upgrade your account at no extra cost to you. It's easy to manage your money when you receive a direct deposit up to two days earlier without any fees. Earn rewards like cash back when you shop, dine, and travel or pay bills online. Take advantage of their convenient mobile app with Ava, their 24/7 support virtual assistant. 
Wisely Direct Card by ADP
Unlike the Wisely pay card, this version comes directly from ADP instead of your employer. You can make a request via your employer if they use ADP to have your wages deposited to your Wisely Direct debit. 
Benefits of Wisely Pay Cards
When you get a Wisely pay card from your employer, you can get paid up to two days early via direct deposit at no cost. 
With the myWisely mobile app, you can track your spending and balance 24/7 from your devices. Take advantage of the Wisely Virtual Assistant to get automated answers to your questions anytime. You can set up alerts and notifications for various reasons. With Wisely, your account is safe, thanks to fraud protection.
You can get cash back during purchases from major retailers as well as ATM withdrawals from thousands of nationwide locations.
Shop and pay your bills everywhere Visa and Mastercard are accepted, including in stores, by phone, online, or in digital wallets. Earn cash back rewards when you shop, dine, and travel using the card with participating retailers. When you purchase eGift cards for Taco Bell, Domino's, Adidas, Uber, and other participating retailers, you can get special offers like up to 10% cash back.
ActivateWisely Card Customer Information
Wisely Customer Service Number: 1-866-313-6901
You can also complete your Wisely login to receive online assistance. Or, go to the Wisely app for more virtual help. 
Didn't receive your personalized Wisely card? Contact the following customer service numbers:
Wisely Pay Card: 1-877-431-5860

Wisely Direct Card: 1-866-313-9029
Wisely Company Information
Wisely, along with the myWisely mobile app, offers personalized payment solutions to give people a fast and flexible way to receive their pay and access their income. Wisely allows you to get advanced electronic payments for purchases as well as broaden your financial inclusion with a range of management tools. Wisely is one of six sources for US workers to get payroll, and over 39 million workers worldwide use the Wisely Pay card. 
The company offers both Visa and Mastercard options so that you can use them anywhere these major brands are accepted. A Wisely Direct card is issued by ADP on behalf of Fifth Third Bank, NA, Member FDIC, so you can trust it is backed by a credible bank. ADP has been a trusted company for over 70 years. 
With Wisely, you can use your card online, in-store, and by phone for dining, shopping, traveling, and more. You can earn cash back, withdraw money from ATMs, and have complete access to your online account 24/7. 
Conclusion 
Wisely cards, including both Wisely Pay and Wisely Direct, have many benefits. The Wisely paycard is available to employees so that you can receive your payroll, including direct deposit, up to two days earlier, without any extra fees. Wisely Pay is one of six options for American workers and proudly supports over 39 million workers globally. The Wisely Direct option comes from the trusted ADP company, which has been in business for over 70 years.
As a cardholder, you can pay bills and use your card to shop, dine, travel, and more. As a Visa or a Mastercard, you have the freedom to use your Wisely card anywhere they are accepted. Enjoy cash back rewards as well as 24/7 online banking options. After you activate your card at activatewisely.con, you can access your balance, spending and savings online or via the mobile app. Wisely conveniently offers virtual assistance for constant support anytime.