YourRewardCard – Did you recently receive a Your Reward Card Visa Debit or Mastercard? You can easily activate your card and sign into your rewards card account at YourRewardCard.com. Keep reading for a step-by-step guide about activating your rewards card, signing into your account to check your balance, using your card and more about your reward card. 
How to Activate Your Reward Card Account at
YourRewardCard.com
Activation of your reward card is easy, just following the steps below and you will be able to login to your account, check your balance and much more!
How to Activate YourRewardCard?
If this is the first time using your card then you will have to activate it before signing in. To activate your card visit yourrewardcard.com to get started.
You'll notice a box with two tabs reading Sign In and Activate Card on the homepage.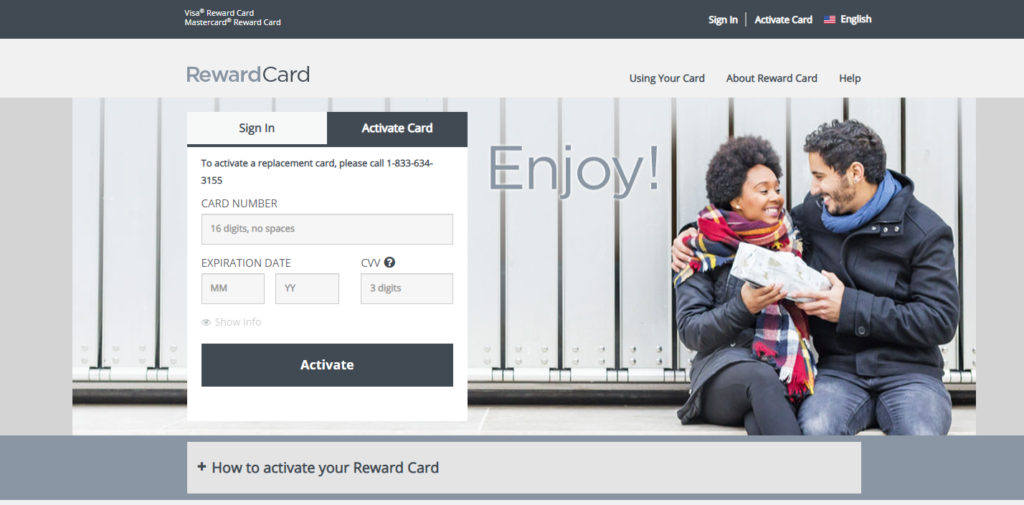 Click the Activate Card tab on the box to switch from the Sign In screen to the Activate Card box. 
Type in your 16-digit reward card number without using any spaces.

Enter your card's expiration date with two digits for the month and two digits for the year box. 

Input your 3-digit CVV number, which you can find on the back of your card. 

Press the Activate button. 

Continue to follow any prompts, such as selecting a PIN. 
*Note: If you are activating a replacement card, you must call 1-833-634-3155. 
YourRewardCard Account Sign-in to Check Your Balance
To get started visit yourrewardcard.com on any Internet browser or your mobile phone.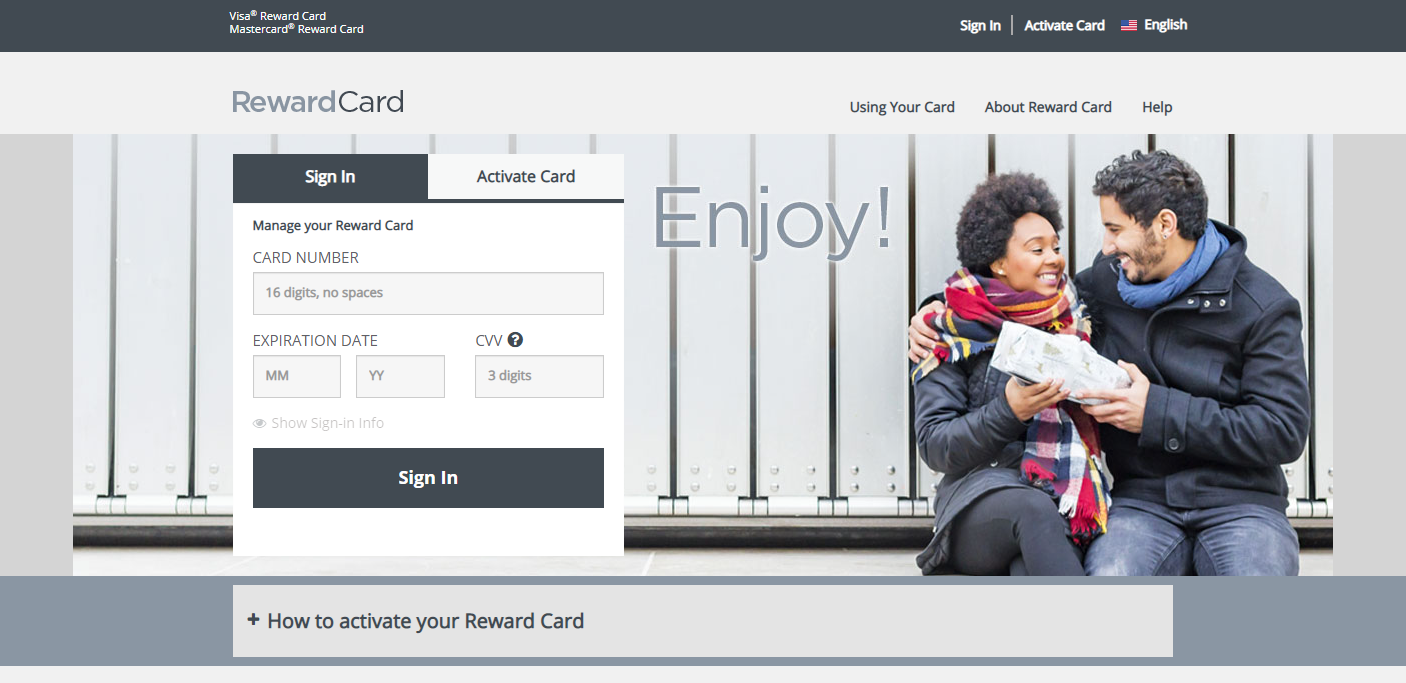 *Note: In the top right corner, you can select your country and language of choice between US English or Español and Canada English or Francois. 
On the homepage, you'll see a Sign In area. 
Type in the 16-digit card number (with no spaces) into the appropriate field. 

Enter the cards expiration date using two digits in the month box and two digits in the year box. 

Enter a 3-digit CVV code from the back of your card. 

Click the Sign In button. 
Once signed in you will be able to check your balance because it will show up automatically in your account dashboard.
Using Your Reward Card
You can use this rewards card everywhere Visa and Mastercard debit is accepted. That includes online and in-store purchases as well as phone and mail orders. 

The merchant will never know your balance, and your personal information is never associated with your card when shopping online. 

Use the at ATMs and take advantage of cashback at a point of sale if you get a card that allows this feature. 

You can also use this card to pay bills, purchase gas, dine out, shop online, and more.
Your Reward Card Customer Service
Sutton Bank issues the YourRewardCard and is a Member FDIC, according to a license from Mastercard International. Your Reward Card can be used in the US everywhere Debit Mastercard or Visa is accepted, depending on which card you have. MetaBank and Bancorp may also market or issue cards, including Visa Debit. 
Questions about your reward card? Contact customer care for help. 
Cards from House Calls, or cards ending in 434340 or 538723: 1-833-634-3155
All other reward cards: 1-844-560-2893
FAQs: www.yourrewardcard.com/faq
Write to:
Reward Card Customer Care
PO Box 826
Fortson, GA 31808