NetSpendAllAccess Activate – NetSpend is a company that offers reloadable debit cards. Having a NetSpend All Access debit card is a convenient way to manage your money if you don't have easy access to getting a checking account or simply don't want a checking account with a traditional bank. Two of the best features of the NetSpend All Access card include extremely low fees and the ability to have your direct deposit from your employer loaded directly onto the card up to 2 days before payday! NetSpendAllAccess accounts also work for government benefits that are received via direct deposit.
If you recently opened a NetSpend All Access account, you should expect to receive your new debit card within 7-10 business days after opening your account. After receiving your NetSpendAllAccess card you will need to activate it before you can use it at businesses, retailers, online, or over the phone. 
Keep reading below for our card activation guide and a basic review of the NetSpendAllAccess Card!
Guide to Activating Your NetSpend Card at NetSpendAllAccess.com/Activate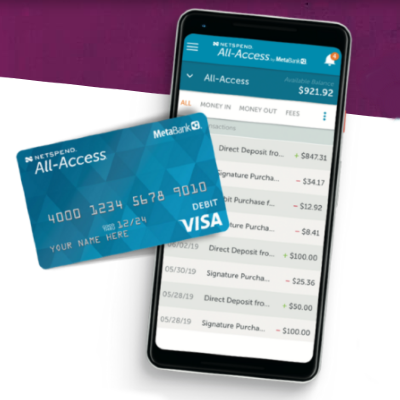 How to Activate Your NetSpendAllAccess Card Online?
Visit

www.netspendallaccess.com/activate or www.NetSpend.com/activate

Enter your 16-digit card number in the designated box

Enter the 3 digit code (located on the back of the card) in the designated box

Click 'Continue' and you will receive confirmation that your NetSpend debit card has been activated
If you are at the netspendallaccess.com home page, simply look for the 'Activate Card' button at the top right of the page to get started.  
How to Activate Your NetSpendAllAccess Card By Phone?
Your card may have an activation sticker on the front. Call the number given to activate your NetSpend All Access account. 

When prompted, enter your 16-digit card number

When prompted, enter the 3-digit security code located on the back of the card

You will be notified that your card has been activated
You can also contact customer service directly at 1-86-NETSPEND (1-866-387-7363) to activate your card by phone. 
Managing Your NetSpendAllAccess.com Account
After you activate your card, you'll want to register for online access. Once your online account access is set up, you can login to your NetSpend All Access Account online by visiting netspendallaccess.con or NetSpend.com.
If you lost your card or need a replacement card for any reason you can click "ORDER A NEW CARD" below the sign in area.
There are also links at the bottom of the page to activate your card, register for online access, find one of 130,000 reload locations nationwide, contact support or go directly the netspend.com homepage.
Once you've registered for an online account and logged in you can view your transaction history, deposits, and fees when you manage your account online. 
How to Open a NetSpend All Access Account?
Having a NetSpend All Access account offers many benefits. Firstly, there is no credit check required to open an account, there is no minimum balance required to maintain the account, and there is no fee for getting a new account or making your first deposit. You will also receive a free debit card that can be used anywhere Visa debit is accepted. 
If you are receiving your direct deposit from your employer to NetSpend All Access account, you can receive your paycheck up to 2 days early. You can also receive government benefits to the card up to 2 days faster. Finally you can even get your tax refund loaded directly on your NetSpendAllAccesss card!
If you would like to open a NetSpend All Access Account just visit netspendallaccess.com and click on "Sign Up Now". It is important to note that you will be asked for the following information when setting up a NetSpend All Access Account:
Full Legal Name
Date of Birth
Address
Email Address
Government ID number, such as SSN 
Driver's License
If you cannot provide personal identification, you may still be able to open an account with some restrictions on spending. NetSpend has to obtain, record, and verify the identity of every account holder to comply with the USA PATRIOT Act and help the federal government fight the funding of terrorism and money laundering. 
NetSpend All Access Card Fees
Your card comes with minimal fees including is a monthly charge of $5 for having an active account, a $3.95 reload fee,  $1 ATM withdrawal fees from ATMs outside of the NetSpend network. There is a $3.95 card replacement fee and a $15 account closure fee. There are also foreign transaction fees and overdraft fees if you overdraft your account.
How to Upgrade to NetSpend Premier?
If you like your NetSpend debit card but want more you may have the option to upgrade to the NetSpend Premier card. To be elibigle to upgrade you just need to be enrolled in direct deposit from your employer or government benefits and have a minimum of $500 direct deposited to your card in one month.
After the NetSpendAllAcesss upgrade offers account holders a 50% reduction in their monthly fees, a $10 cushion if you overdraft and Premier card holders will get a custom personalized card with their favorite photo. With Premier you'll keep the same fast 2-day early direct deposit!
Final Thoughts on the NetSpend All Access Card
The NetSpend card is issued by METABank, was established in 1999 and they have served over 10 million customers. This card covers a hole in the market for those that don't have and are unable to get a checking account. It is a reloadable debit card and individuals can have their paychecks direct deposited on to the card which means they are able to have the funds available for immediate use and avoid the crazy fees of check cashing services. Even better, NetSpend card holders often get their funds 2 days earlier than traditional direct deposits to a bank account.  Your NetSpendAllAccess card can also have your government benefits direct deposited onto it. NetSpend offers zero liability like most debit cards and can be used anywhere Visa debit is accepted.
The NetSpend online portal can be found at NetSpendAllAccess.con or NetSpend.com and can be used for monitor all account activity, checking your card balance and much more!