EmRewards – The ExxonMobilRewardsPlus program gives you cash back for purchases in-store and at the pump. But before you can use your card, you have to go through the steps at the EmRewards.com activate site and then register your card at www.EmRewards.com/Register to take advantage of all the benefits of the program. 
Let's walk you through that process so you can start saving immediately.
Emrewards.com: Activate and Register Card
Before you get started, make sure that you've picked up your Exxon Rewards+ card at your local Exxon Mobil. You may begin earning points right away but to redeem points you will need to register the card. Simply visit emrewards.com/activate to and follow the simple steps to register and activate your rewards EmRewards card.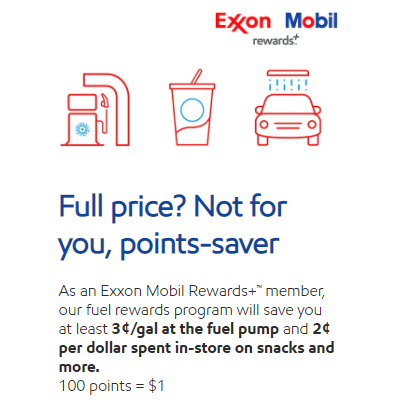 Join Exxon Mobil Rewards
To get your Em Rewards card, start by signing up for an account a EmRewards.com/Register.
Once you reach the welcome page, you can read a little bit more about the program. It offers $0.03 back at the pump and $0.02 in-store on your purchases. That's a pretty good deal for a free program!
Enter your phone number, including the area code. 
Next, enter your email address, first name, last name, and your password. To ensure your information is accepted, keep in mind the password rules: no spaces, a minimum of 8 characters, and at least one letter and number.
Then, you'll choose a 4-digit PIN code that lets you redeem your points. 
Finally, you can enter a referral code if someone recommended the program to you. Tick off the boxes agreeing to the terms and conditions, and opt-in for notifications about their exclusive offers, if you'd like. 
EmRewards Activate Premium Status
To get even more rewards from the ExxonMobilRewardsPlus program, the activation process also gets you started towards earning Premium Status. 
With Premium status, you can earn twice as many base points with your purchase. That means $0.06 per gallon on your purchase of Synergy Supreme+ gasoline. 
To join this reward tier, just make a Synergy Supreme+ fuel purchase of 8 gallons or more at least three times in a calendar month. 
Exxon Mobil Rewards Plus will automatically upgrade your account, and you can maintain your Premium status as long as you continue to make three Synergy Supreme+ purchases per month. 
You can skip up to three months before your benefits are subject to expiration. 
ExxonMobilRewardsPlus Register Card Instructions
The next page you'll need do visit is EmRewards.com/Register where you can register your card number and link it to your account. You'll need to have a card in hand before you can start this process.
Once you have the card, type in the 16-digit card number and 3-digit activation code, both of which you can find on the back of your card. 
If you misplace or forget your card at home, but have the number memorized, you can enter the number at the pump to use your account. 
EmRewards.com Customer Service 
In case you have any questions about completing the EmRewards card program or the registration process, you can get in touch with Exxon Mobil customer service. They'll be able to help you out!
Customer Service Questions or Replace Your Card: 1-888-REWARD+ (1-888-739-2730)
Call Center Hours: 9 AM – 7 PM EST, Monday-Friday
ExxonMobilRewardsPlus.com Customer Service: 1-800-243-9966
ExxonMobilRewardsPlus.com App Customer Service Email: [email protected]
EMRewards FAQs: https://www.exxon.com/en/rewards-faqs