BankofAmerica.com/Activate – If you're a new Bank of America credit, government debit card or bank debit card holder you'll need to activate your card before being able to use it. To activate your card you can either call the BofA activation line or activate your card online. When activating your card online you'll be required to enroll in online banking during the activation process which will allow you to manage your credit or debit card account via the Bank of America website or the Bank of America mobile app.
Enrolling in online banking is recommended regardless of whether you choose to activate your card online or by phone. Access to online banking gives you the ability to see all of your account activity including cleared and pending charges, check your balance balance and available credit limit. You can also see when your next payment is due and the amount due, schedule a one-time payment, setup monthly recurring auto payment, contact customer support, see current offers for special balance transfer rates and much more!
Continue reading below for our guide to activating your Bank of America credit or debit card and registering for online access so that you can begin using your card immediately and manage your new card from any Internet enable device. This process is very simple and should only take you a few minutes.
How Can I Activate My Bank of America Debit or Credit Card?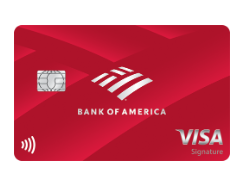 Activating your new Bank of America credit card is very simple! After you receive you card you have a few options for activation as described below. Be sure to have your card in hand as you'll need it for each of the activation methods discussed below.
How to Activate Your Bank of America Credit or Debit Card Online?
You can activate your debit or credit card online by visiting www.BankofAmerica.com/Activate or downloading the Bank of America Mobile App. Just go to this page and follow the quick and easy on screen steps. If you are already enrolled in BOA online banking just login to activate.
If you haven't enrolled in online banking you'll need to signup for online banking in order to activate your new Bank of America card. This is super easy and all you need to do is follow the on-screen steps and you'll have your card activate in no time.
*For activation in Español visit the link above and click the En español link in the upper right hand corner of the page.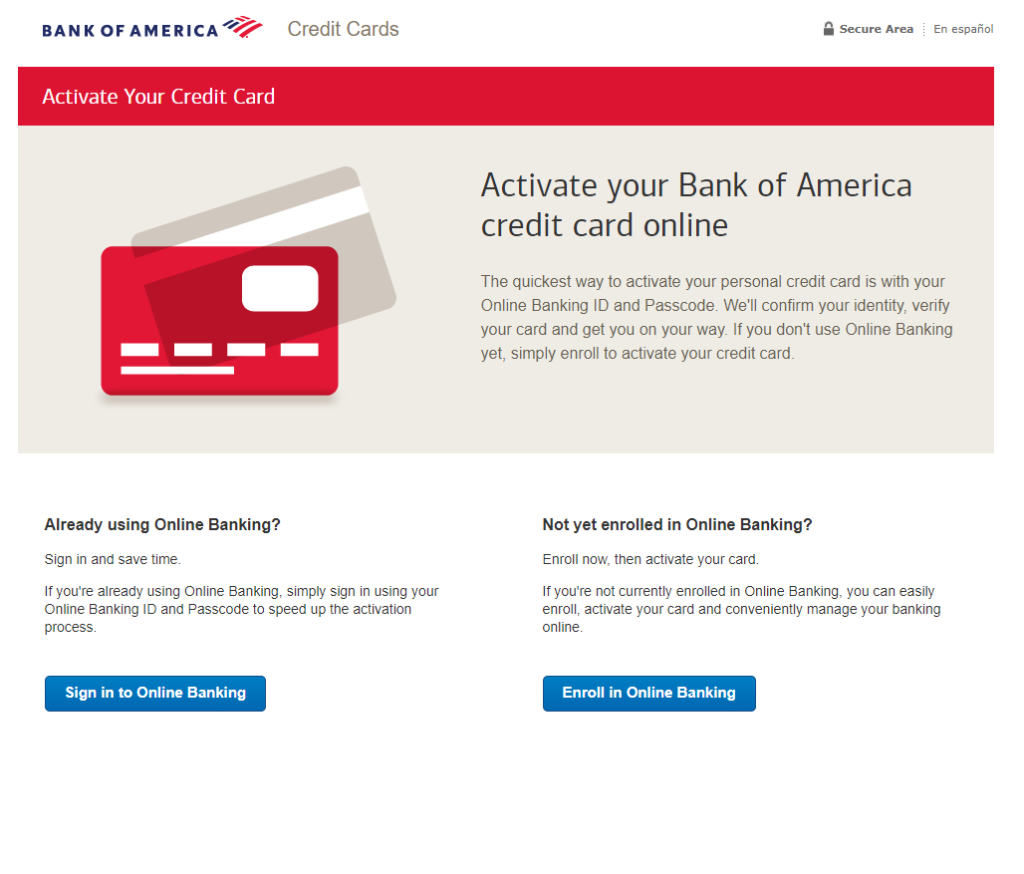 How to Activate Your Bank of America Credit Card Over the Phone?
When you receive your new card the phone number to call for activation is (800) 276-9939. This is an automated system that is only for activating Bank of America credit cards.
Simply call the number where you'll have a series of prompts to following entering your card number, expiration date and 3-digit security code from the back of the card. You'll also be required to enter some personal information to verify you're the actual cardholder.
*If you're having trouble activating your card the system will transfer you to a virtual agent who will assist you with the activation process.
How to Activate Your Bank of America Debit Card By Using It?
Using your new BofA debit card with its current pin number for any purchase or at a BOA ATM will automatically activate it.
How to Activate Your Government Issued Bank of America Prepaid Debit Card?
If you have a Bank of America government card issued for unemployment or other assistance program you'll need to visit the activation page that is specific your exact card. Below we have done our best to list all of them out for you.
Employment Development Debit Card – (EDD card) – www.bankofamerica.com/eddcard
Michigan UIA Debit Card (MIuiDebitCard) – www.bankofamerica.com/miuiadebitcard
Maryland UIA Debit Card (MDuiDebitCard) – www.bankofamerica.com/mduidebitcard
Massachusetts DUA Debit Card (DUADebit) – www.bankofamerica.com/duadebit
Cash Pay Debit Card – (CashPay Card) – www.bankofamerica.com/cashpay
Money Network Debit Card – (MoneyNetwork) – www.moneynetwork.com
Bank of America Customer Support
If you're having trouble activating any of the cards discussed above you can call the Bank of America customer support number at 1 (800) 732-9194.
Conclusion
Bank of America offers convenient unemployment or banking debit card and a bunch of great credits cards that offer excellent cash back and rewards points options.
Activating any BOA card is extremely simple and after you've activated your card you'll be able to use it immediately to make purchases.