If you recently purchase TurboTax then you'll need to download an install the software to get started with completing your business or personal tax returns. In the past when individuals purchased software completing installation was as simple as inserting the CD that came with their purchase. These days however many people no longer have CD-ROM drives and thus need an alternative way to install the software they've purchased. 
This is why Intuit has created a TurboTax Installation website at www.InstallTurboTax.com.
If you have a windows 10 desktop or Mac keep reading to learn how to download and install TurboTax on each of these devices simply by visiting the IntallTurboTax.com website. 
InstallTurboTax:

How Download & Install TurboTax
1. If you don't have a CD-ROM drive, installation can still be a breeze. Just visit www.InstallTurboTax.com to get started.
2. Before you can begin downloading TurboTax, you will have to login to your Intuit account or create an Intuit account if you don't already have one.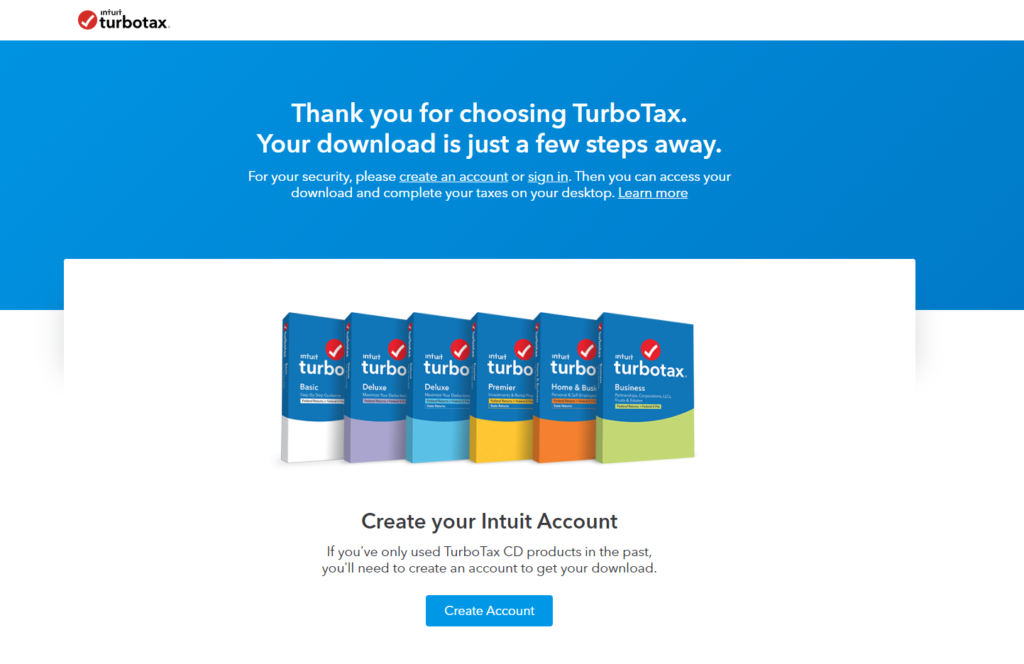 3. Click the button that says create an account and follow the on-site steps by entering your email address, phone number and then choose a username and password.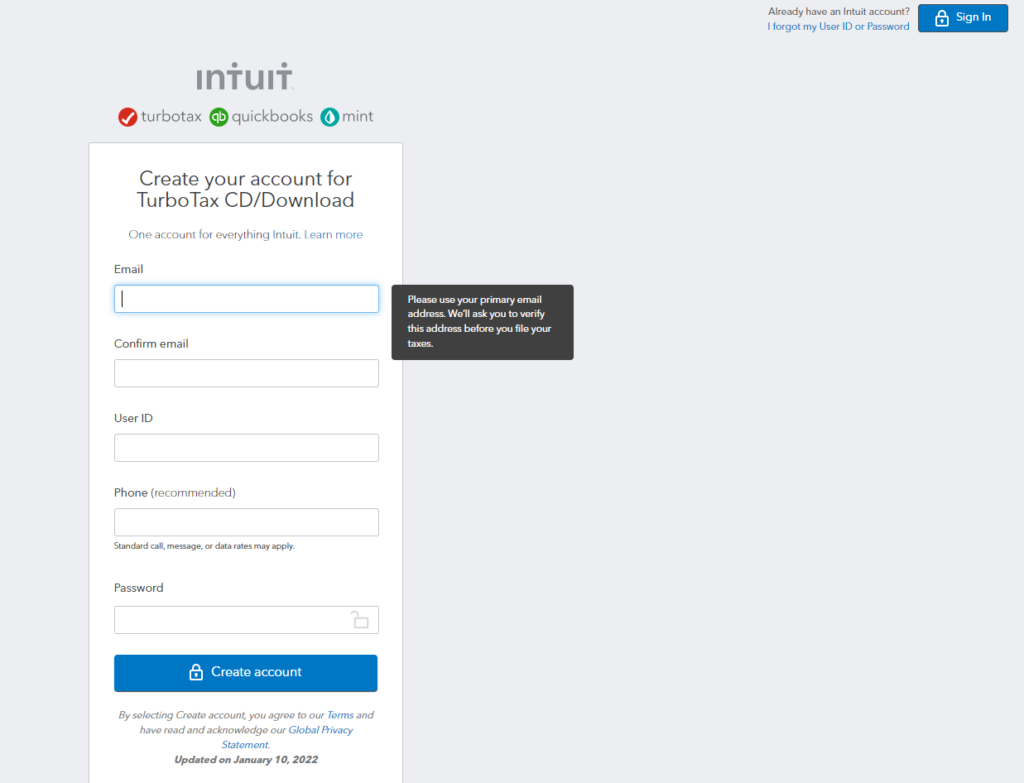 4. If you already have an Intuit account you can sign-in. If you already have an account simply click on the login link at www.InstallTurboTax.com and sign-in.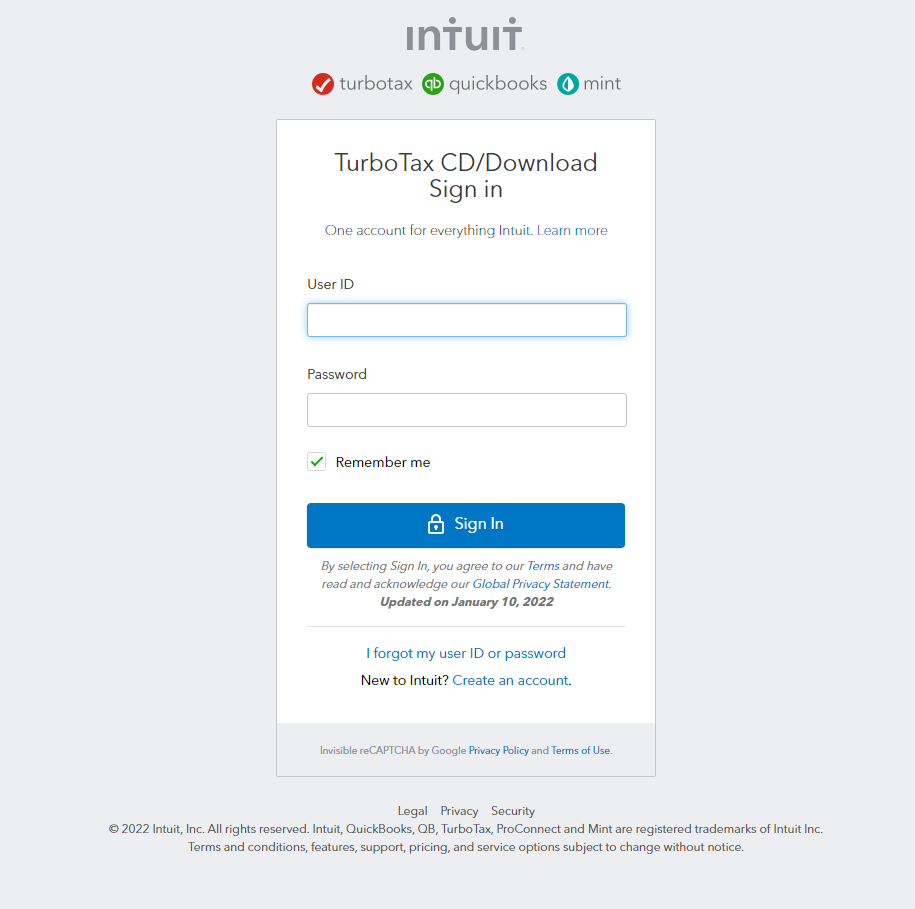 Steps-by-Step Guide to Downloading and Installing TurboTax
1. Once your are logged in to your Intuit account just click the download link for the TurboTax version you purchased among the following versions.
Home & Business
Business
Premier
Deluxe
Basic
2. Once you've clicked the appropriate link downloaded the TurboTax Installer file you will need to find it in your downloads folder and double click on it to run the Install file.
3. Follow the on-screen prompts to Install TurboTax.
4. After installing in order to use the software you will need to enter the license code that came with your purchase.
How to Install TurboTax on a Mac Computer if you Have a CD-ROM Drive?
Insert the TurboTax CD in your disk drive.
Click on the TurboTax.dmg file to create an icon on your desktop.
Drag the red TurboTax icon to your Applications folder and follow the on-screen directions
After your TurboTax for Mac installation has completed, you just need to activate your software by entering in the license code
Launch the software by double-clicking on TurboTax in the Applications folder.
If you are searching for a way to install TurboTax on a mac without a cd drive all you have to do is go to InstallTurboTax.com and follow the steps at the beginning of this article to get started using TurboTax right away.
How Can I Get Help Completing My Taxes Once I've already Downloaded and Installed TurboTax?
If you've completed the installation process and need help completing your taxes you should consider using the TurboTax Screen Sharing support service at TurboTaxShare.Intuit.com. This isn't a full tax completion service but rather it allows individuals to get help if they're struggling with individuals steps when trying to complete their taxes.
TurboTax Customer Service
If you need help with your TurboTax software download for Mac, Windows, or any other devices you can contact Intuit through the channels listed below:
About Intuit, Inc. 
Intuit is a financial services company with flagship software's such as Mint, QuickBooks, Mailchimp and TurboTax. TurboTax is the #1 tax software for U.S. citizens to complete their Federal and State income tax returns.