Did you receive a getmyoffer.capitalone.com access code? You can enter your Capital One reservation number and application code in just a few steps.. That way, you can get the credit card you deserve, along with rewards like cashback deals and travel perks. It is time to get approved for a Capital One credit card by responding to your mail offer at getmyoffer.capitalone.com. 
Ultimate Guide to Applying for a Capital One Credit Card at GetMyOffer.CapitalOne.com 
If you received a getmyoffer.capitalone.com reservation code you can easily go online to complete the quick application process that only takes a couple of minutes. 
1. Visit www.getmyoffer.capitalone.com

Note: Make sure you have your 16-digit capital one GetMyOffer.CapitalOne.com reservation number and the 6-digit access code to proceed. You can find your reservation number and access code on the letter offer you received in the mail, and it is usually on the bottom part and displayed like the following: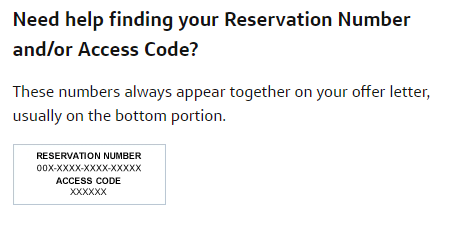 2. After retrieving your capital one code details, enter them into the appropriate fields, and hit View Next Step. Follow the prompts to complete the application process.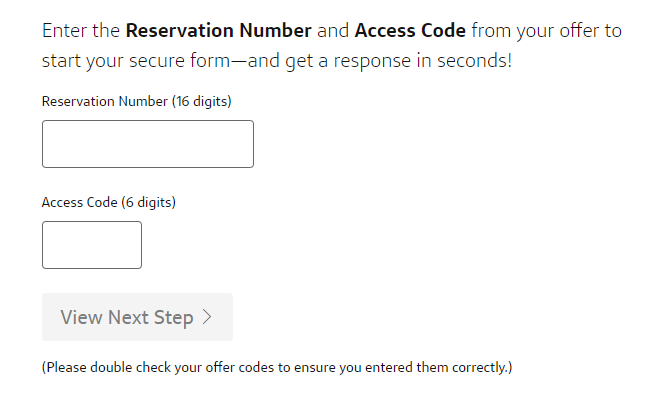 Note: Capital One will review your application, and if approved you will receive an application approval message, which will also come via email or mail. A denial always comes in the mail with a detailed explanation of why you were denied. You will get your Capital One credit card in the mail within 7 to 10 business days if accepted.
3. After you receive you card in the mail Go to getmyoffer.capitalone.com/activate after it arrives.
Note: Did you receive a pending decision notification? The issuer needs more time to process your request before approving or denying your application. Pay close attention to your mail and email for further details, like submitting more personal information or additional data. 
You Can Apply at GetMyOffer.CapitalOne.com Without a Mail Offer 
If you didn't receive a capital one code in the mail, or you lost it you can still apply for a card without a getmyoffer.capitalone.com access code. The mail offer is simply a targeted advertisement of sorts.
Follow these instructions to apply for a get my offer capital one credit card without a reservation code. 
Visit www.getmyoffer.capitalone.com in your preferred browser.

Click the link that reads: See if you are pre-approved. The site claims it only takes 60 seconds or less to see if you are qualified for a personal credit card from capital one. 

You need to complete a prequalified form.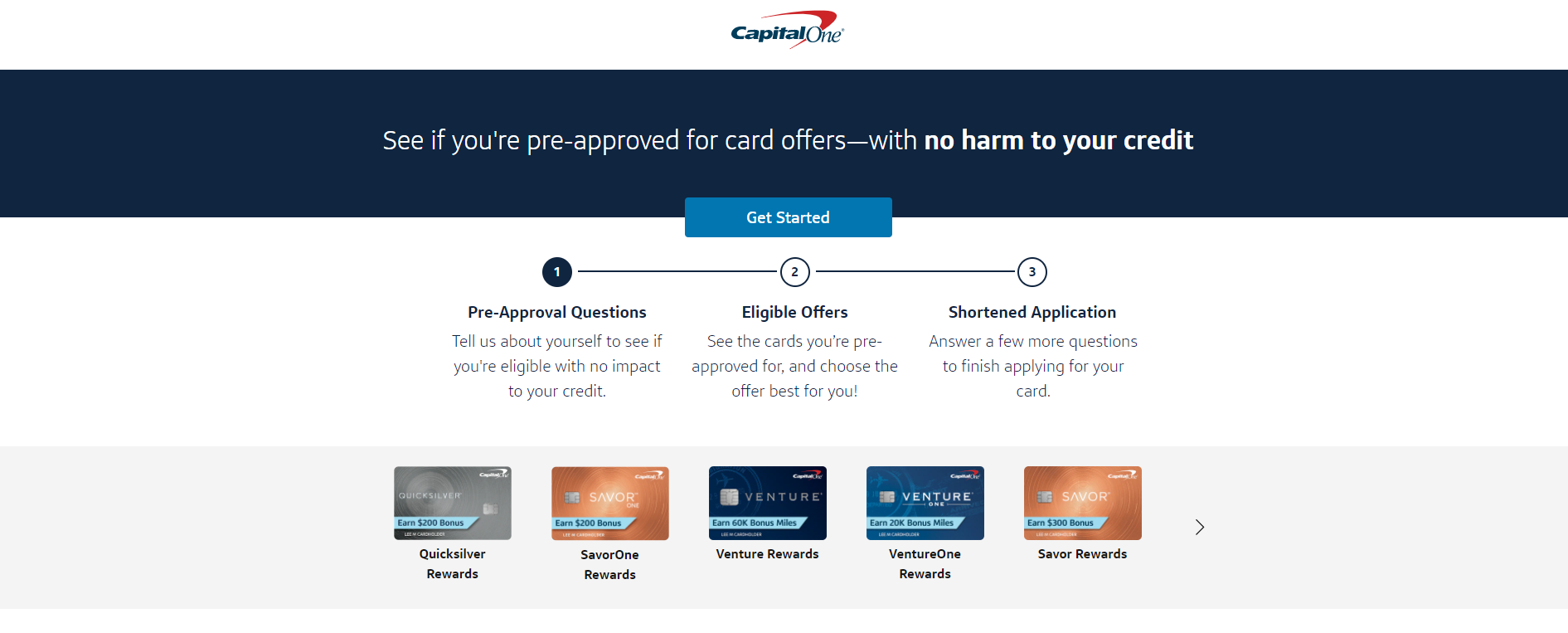 The first page requires you to select any card features you prefer, between rewards, low interest, or unsure. Select which pertains to your current situation and press Next.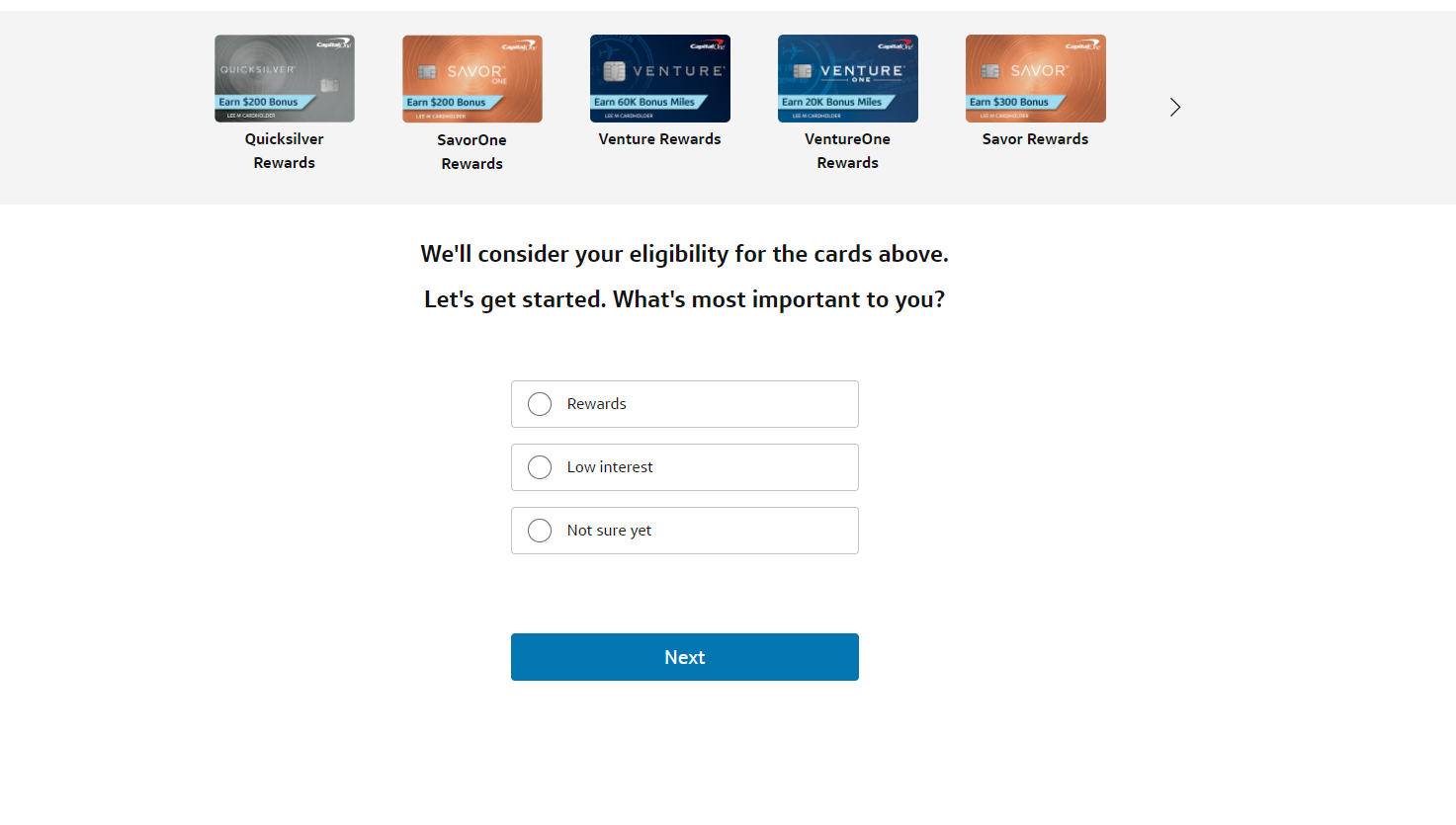 You will have to input several fields of information and press Next for each new page to appear including the following:
First, middle, and last name

Date of birth

Social security number

Permanent address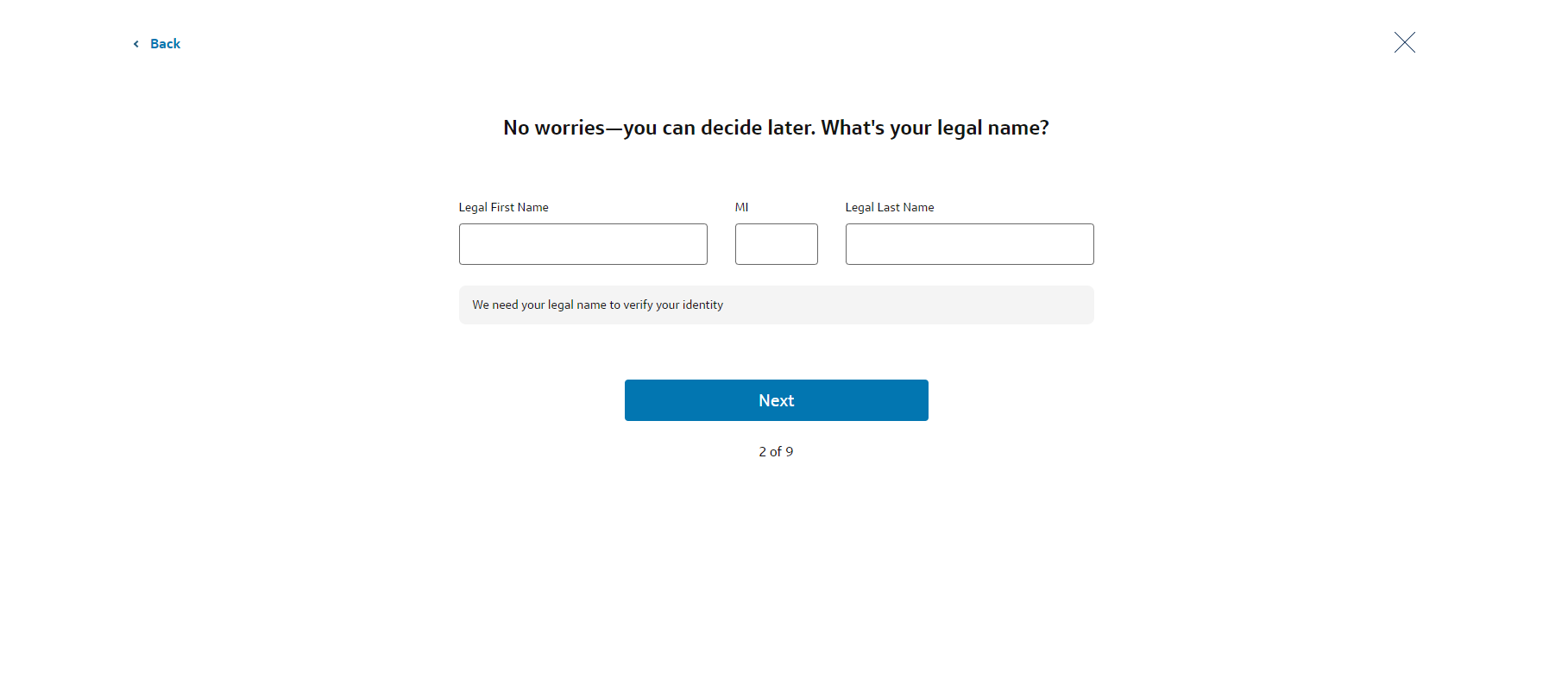 After completing all of the personal information pages, you will instantly receive eligible offers, if applicable. If you like any of the cards you are pre-approved for, you can select them and continue by completing a shortened application to determine your approval. 
Video Guide to the GetMyOffer Capital One Website
Minimum Requirements to Get Approved for a Capital One Approval
You should have at least a good to excellent credit score if you want approval, which means more than three years of favored credit history. Get my offer capital one is available for legal American residents 18 years or older. Depending on your eligibility, you can receive a typical personal credit amount of $2,000 to $5,000. 
GetMyOffer.CapitalOne.com Credit Card Options
Capital One QuickSilver:

 Earn 1.5% cashback using this credit card on all eligible purchases. It carries $39 in annual fees. 

Savor Card For Rewards: 

You can win $500 cash back after spending $3,000 within the first three months of use. The annual fee is $95. 

Venture Rewards: Win two times miles on each dollar you spend on daily purchases using this credit card. There is a $95 annual fee. 

Capital One Journey Student Card:

 College students can use this personal credit card to establish a good credit history and rating. There is zero annual fee for this personal credit card. (Make sure you make all of your payments on time and don't max your credit limit!)

Spark Cash Credit Card:

 Take advantage of a $500 sign-on bonus along with 2% cash back on eligible purchases in the future. The annual fee is $95. 
Getmyoffer.CapitalOne.com FAQs
Is Get My Offer Capital One Legit?
Capital One specializes in credit cards, banking, savings accounts, and auto loans. It is one of the most popular financial corporations in America. Capital One uses getmyoffer.capitalone as an online portal for pre-approved card issuers to find more information about their credit options. 
How Do I Use the getmyoffer.capitalone.com Application Code?
If you received a getmyoffer.capitalone.com application code in the mail, go to getmyoffer.capitalone.com to enter the reservation number and access code. Follow the prompts and input any information requested to complete the application process. You will have to wait for a confirmation message about your approval. Or a letter will come in the mail regarding a denial. If approved, you can view your credit card offers and related details. 
How Can I Check If I Am Qualified For A Capital One Credit Card?
If you are still waiting for approval or denial, even after submitting more details from a pending decision, you can check your status. Go to the official Capital One website and click on 'See if you're prequalified.' You will have to enter your banking details and personal information and wait for confirmation. Remember, it can take 7 to 10 business days to process your application. If approved, you will receive your getmyoffer.capitalone.com access code and reservation number in the mail within another 7 to 10 business days. Then, you can enter your code into the Capital One portal to access your card offers. 
GetMyOffer.CapitalOne.com Conclusion & Support Details
If you need to help with getmyoffer.capitalone.com, you can call the following toll-free number:
Get My Offer Capital One Representatives 1-877-383-4802 

Credit Card Customer Service 1-800-227-4825

Fraud Protection Helpline 1-800-427-9428 or 1-800-239-7054

Canada Residents Only 1-800-481-3239
You can also reach out these ways: