DestinyCard.com/Activate – The Destiny Credit Card is perfect if you are looking to rebuild your credit or establish credit for the first time. If approved for the Destiny credit card at destinycard.com, you'll need to wait to receive it in the mail and then you'll need to activate the card before being able to enjoy your new purchasing power and all of the other benefits of your new Destiny credit card.
Activation can be done either online or over the phone. Read on below for a step-by-step guide to via both activations methods.
Step-by-Step Guide to Activate Your Destiny Card at DestinyCard.com/Activate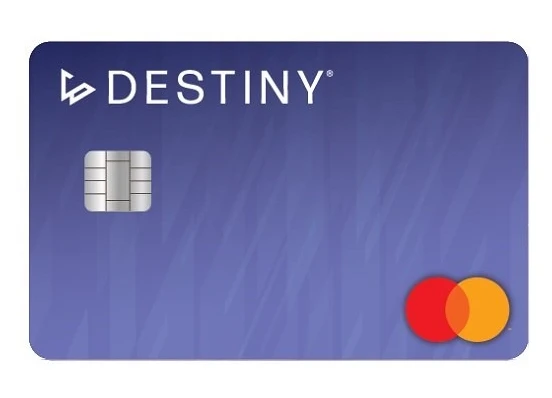 Activating Your Destiny Credit Card Online
During the Destiny card online activation process you'll be required to sign up for a mydestinycard portal where you will be able to check account activity, balances, make payments and more.
Here are the steps to activate your Destiny Card
To activate your card, visit the card's activation page at denstinycard.com/activate and

 click the "Register" link to create an online login.

After logging in or creating a new login, you'll be prompted to enter the following details:
Account number (the card number shown on the back of the credit card)

Date of birth

Social security number

Click the blue "Next" button

Username

Password
After setting up your login, you will be prompted to establish security questions and answers.

Once all of the fields are completed correctly, you can click the "Activate" tab to finish creating your online account. 
At this point your card will be activated and you can now log into the Mydestinycard.com website to view and manage your credit card information 24/7 from any computer or mobile device with internet access. Be sure to enter a valid email address so that you can quickly recover your account in the event that you forget your login credentials.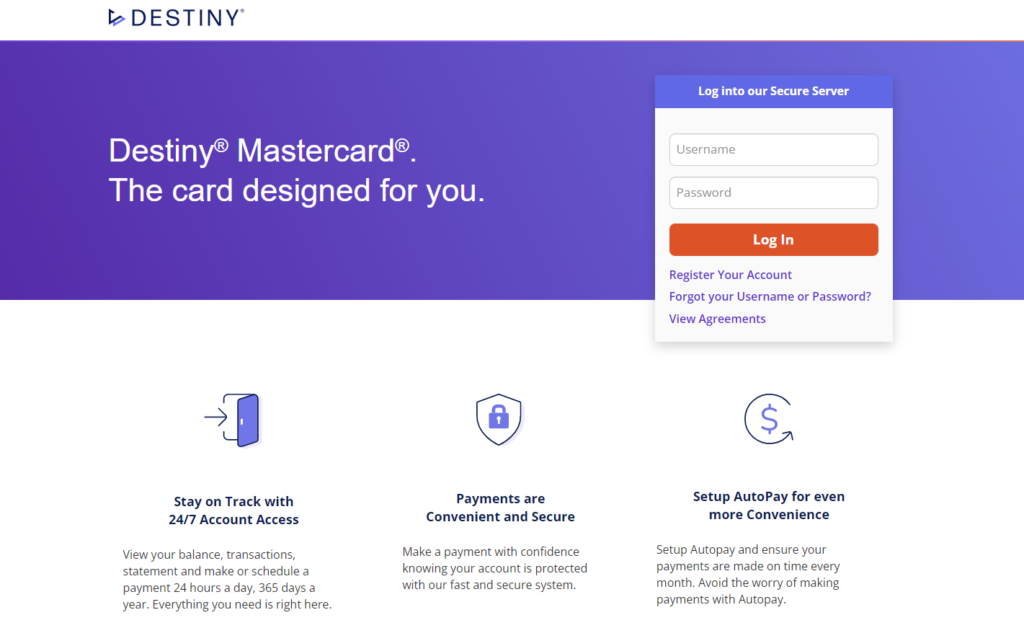 Activating Your Destiny Credit Card Over the Phone
Activating your Destiny credit card over the phone is extremely easy. Just call the phone number found on the sticker on the front of your new card and follow the prompts over the phone. For some people the process will be automated and others may need to speak with a customer service agent.
If you choose to activate your card over the phone you'll need still need to visit destinycard.com to register for online access.
Destiny Mastercard Benefits
The Destiny credit card allows you to effectively manage your credit easily and seamlessly. Here are a few of the main benefits of the card:
Zero Liability Protection
The Destiny MasterCard gives you peace of mind knowing that you won't be held responsible for any unauthorized transactions. So in the event that your card is lost or stolen, you can simply call the customer service number to cancel it immediately or dispute any unrecognizable charges.
Credit Bureau Reporting
Work your way up to a better credit score with the DestinyCard. Once you're approved for the card your account balance and payment history will be reported to all three major credit bureaus every month. 
So if you're struggling to purchase large ticket items such as a house or car or in the market for a new apartment or loan, you can use this card to your advantage.
Get Cash Advances
The DestinyCard Also offers cash advances to qualified applicants. So if you are planning a road trip or need a bit of last-minute cash on the go, you can easily call the customer service line and request a personal identification number (PIN) which will be sent in the mail and allow you to take out cash at most state-side ATMs.
24/7 Online Account Management
You can conveniently manage your Destiny card account online at mydestinycard.com after you've activated the card. Online management allows you to make secure payments towards your balance, track current balances, download statements, and view transactional history. 
All you need is a computer, tablet, or mobile phone with internet access and you can keep tabs on your card 24/7.
Finally, to keep your account protected, never send your account number or any other personal details via email. If you have any issue with your card or your account, you can call the customer service line for the Destiny Credit Card at 1-844-222-5695.