TJX / TJMaxx Credit Card – In this post we have listed answers to various FAQ questions that are vital to TJ Maxx credit card holders in allowing for them to experience the full benefits of their TJX Mastercard rewards credit card. If you're a TJX card holder you'll find this information vital to answering questions you most likely have about how you can earn TJX rewards, logging in to your TJX credit card account, how to activate your TJX credit card if you're a new cardholder, how to make a payment to your TJMaxx credit card, where you can find customer support and much more!
So read on to learn all the important details about your TJX credit card such as logging through the Synchrony bank portal, making a one-time TJ Maxx payment, quick payment as a guest, setting up recurring payments through bill pay, making payments through the mail or over the phone, how you can earn TJX rewards certificates that can be used at any of their 5 brands and the best way to contact credit card customer service by phone or mail.
TJX – TJ Maxx Credit Card Activation, Rewards & Payment Cardholder Guide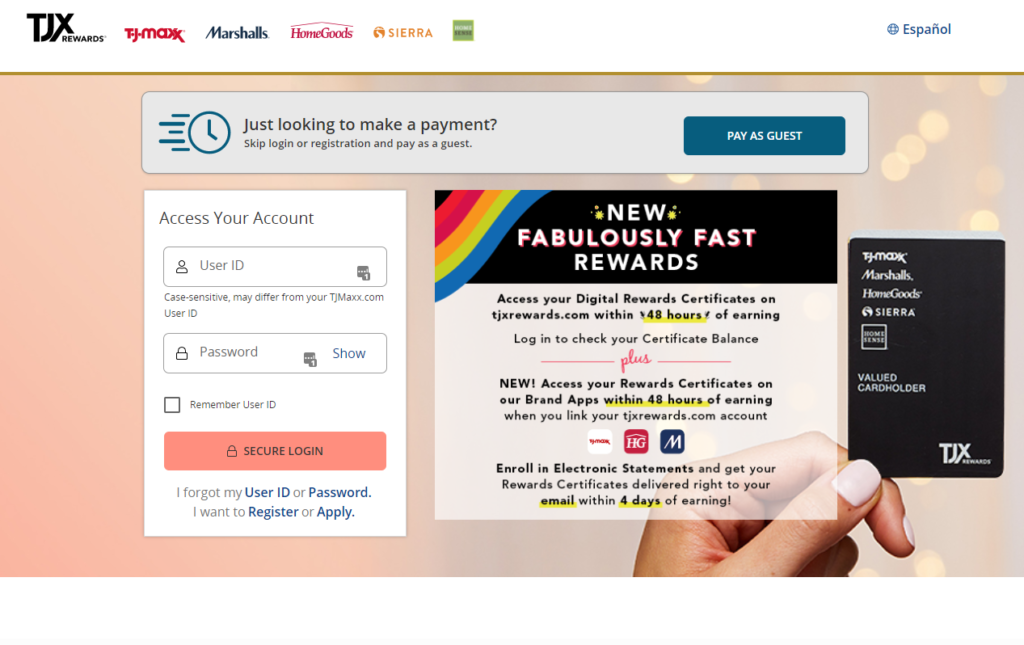 How do I Access my TJMaxx Credit Card Login?
This is simple, just visit the TJ Maxx Credit Card Portal to login at TJXRewards.com/Login.
Note: The TJ Maxx credit card is actually for much more than just TJ Maxx stores. It is officially called the TJX reward credit card and is the store card all of the TJX brands including HomeSense, Sierra, HomeGoods, Marshalls and TJ Maxx stores.
How do I Activate My TJ Maxx Rewards Mastercard?
To activate your TJMaxx credit card just visit Activate.TJXRewards.com.  Enter your full card number, the 3-digit security code and the last 4 digits of your social and click "activate my card". Follow the on-screen prompts to finish activating your new credit card.
How do I Register My TJX Rewards Card Account for Online Access?
To register your TJXRewards Card just follow these simple steps. Visit the TJMaxx credit card registration page at TJXRewards.com/Register.
To register for online access click the register link below the login box and enter your account number and zip code and click continue.
Follow the remaining steps to register your card which includes creating a username, password and entering other required information to register your card.
Where can I Apply for a TJX Rewards Credit Card?
You can apply for a TJX credit card at any TJ Maxx, Sierra, HomeGoods, Marshalls or HomeSense store or you can apply online. When you apply you will receive 10% off your first purchase.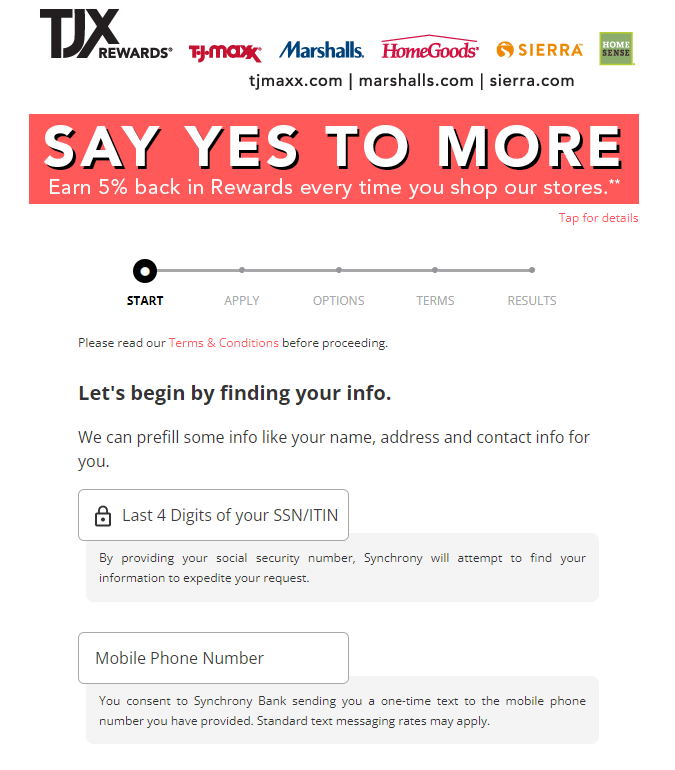 What Rewards Can I Earn with my TJX Credit Card?
TJX offers 5% cash back rewards for any money spent at their family of 5 stores and 1% cash back anywhere else you use your card. For every $200 you spend you will receive a TJX rewards gift certificate for $10.
You will also receive invites to private shopping events at TJX owned stores.
How do I Make a One-time Payment or Setup Up Recurring Payments through Online Bill Pay?
Once logged into your online account you can setup bill pay for recurring payments or make a one-time payment. Just follow the steps inside your account. Note: You can also make a payment to your TJ Maxx credit card as a guest without having to login.
Just click on "Pay as Guest" on the TJX login page. Then enter your card number, last 4 of your social and your zip code then follow the steps
How do I make a TJ Maxx Credit Card Payment by Mail?
If you want to make your TJ Maxx credit card payment by mail you can send a check or money order. When mailing your check or money order be sure to include the payment portion of your statement with your payment so TJX knows what account to allocated your payment towards.
Mail your payment to the proper address based on your card type:
TJX Rewards Credit Card
PO Box 530948
Atlanta, GA 30353-0948
TJX Rewards Platinum Mastercard
PO Box 530949
Atlanta, GA 30353-0949
How do I make a TJ Maxx Credit Card Payment by Phone?
If you want to make your TJ Maxx payment by phone just call the number on the back of your TJX card. Follow the prompts to make a payment using their automated system.
How do I Contact TJ Maxx Mastercard Customer Support?
TJX Platinum Rewards Credit Card Support: 1-877-891-5882
General TJX Store Support: 1-508-390-1000
TJX Store Locator
If you're searching for any TJX store you can use their store locator to quickly and easily find the nearest store to you.
Our Final Words on the TJX TJ Maxx Credit Card 
The TJX credit card is an excellent store credit that offers generous rewards. You can get 5% rewards in the form of a $10 TJX rewards gift certificate for every $200 you spend at any of their 5 stores. The TJX rewards certificate can also be used at any of their 5 brands. If you really love the TJX brands you can earn more rewards by earning 1% cash back on purchases at all other retailers. As  a result amount of TJX rewards you can earn is limitless.