Did you recently sign up for Amazon Prime? Your paid subscription allows you to take advantage of multiple member benefits, such as prime day offers and free 2-day shipping on most products. However, you also get access to entertainment like prime music, video, and gaming. So instead of asking yourself, 'is twitch prime free with amazon prime?', read this helpful guide to learn more about amazon prime twitch subscriptions. Also, how to connect your Amazon Prime to Twitch.
Our Guide to Subscribing to Twitch Streaming 
What Is Twitch Prime or Prime Gaming?
Amazon recently acquired Twitch, an online streaming platform. Twitch Prime is a video game service that allows Amazon Prime members to subscribe to their favorite gamers. The company recently changed its name from Twitch Prime to Prime Gaming. 
By signing up for Amazon Prime, you automatically receive a free monthly subscription to the Twitch gamer of your choice every single month your Amazon Prime account is active. As a Prime member, you will access bonus games, exclusive game content, and other perks. Although there are multiple benefits of Prime membership, many people join for a free Twitch channel subscription. 
How to Get Free Twitch Prime?
Now called Prime Gaming, twitch prime offers Amazon prime subscribers a free twitch subscription every month. That means, after you sign up for Amazon Prime, you have access to a free Twitch channel subscription for complete to unlock free add-on content for games. You also receive a Prime chat badge exclusive for Twitch subscribers using Amazon. 
How to Create a Free Twitch Account?
It's easy to create a Prime Gaming or Twitch account after you become an Amazon member.
1. Go to twitch.com, and you will get redirected to https://www.twitch.tv/.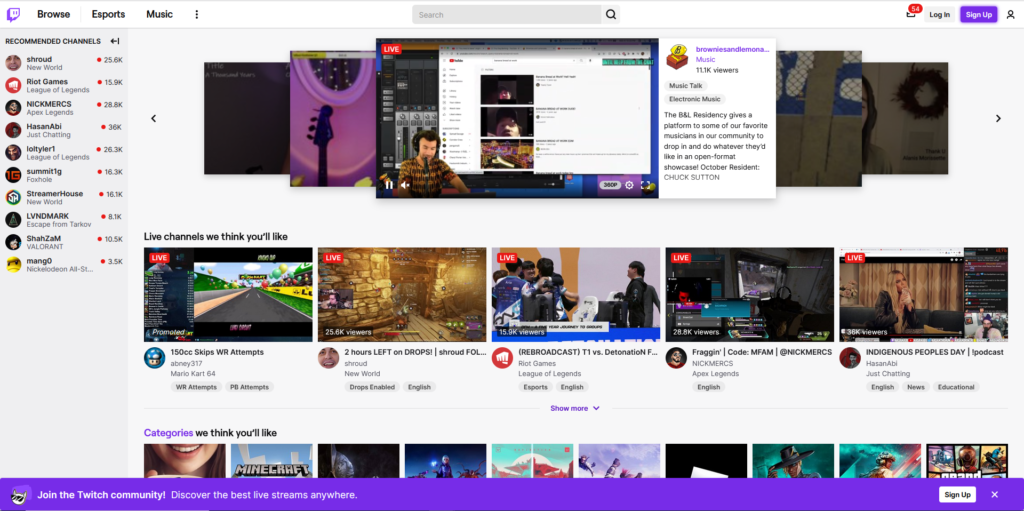 2. Click on the purple 'Sign Up' button in the top right-hand corner of the page. Create a username and password. Then, input your birth date, phone number (or email address).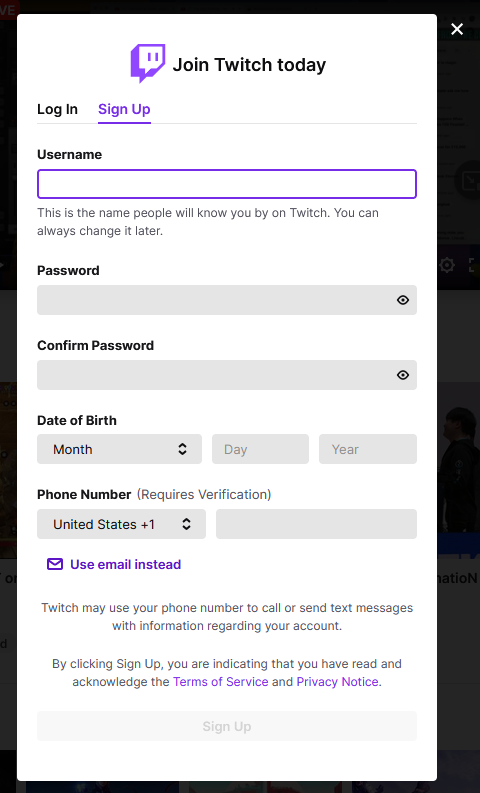 3. Click 'Sign Up' and proceed to finish any other prompts to complete your free Twitch account registration. 
How to Subscribe to Twitch Streamers Using Prime
Are you ready to use your free monthly Twitch subscription using your Amazon prime membership? 
1. Log into your Twitch account. 
2. Go to the video streamer's profile. 
3. Click the 'Subscribe' link, which is at the top right-hand corner.

4. *Note: Is this your first time using this perk? You must confirm that you want to use your monthly free subscription for that particular gamer. Click 'Yes' to Twitch subscribe to that streamer for one month for free. 
5. After you have subscribed you will need to activate your Twitch.TV account.
How to Re-Subscribe to a Twitch Streamer 
After the month is complete, you can use another free monthly subscription again. If you would like to set up a recurring subscription with the same Twitch streamer each month, click "Subscribe" when the second month comes around, then select "Continue Sub." 
You can subscribe to one Twitch streamer for free per month if you use your Amazon prime perk. Please remember, after you Twitch subscribe to the streamer of your choice with your Amazon prime link, you will have to wait until the month is complete to use this benefit again. Otherwise, it will be an extra cost. 
How to View Your Twitch Subscriptions
To check your subscriptions, you can go to the Twitch website and log in to your account. Click on your Twitch profile picture in the top right-hand corner, and then click 'Subscriptions.'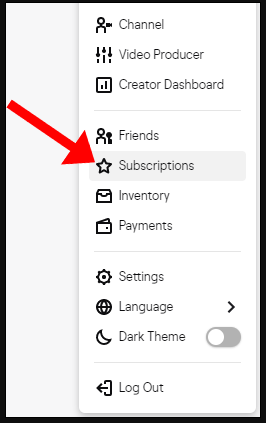 You will be able to see your current and expired subscriptions as well as any benefits and if they are through your Prime membership.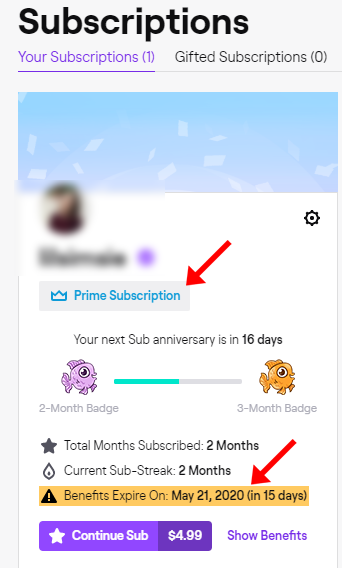 Twitch Prime Support
Visit Twitch Prime Guide FAQ for more information about Prime Gaming and a complete list of the benefits of linking your Twitch and Amazon Prime accounts. Plus, you can learn how to link your Twitch and Amazon accounts, cancel your account, and get more support.